The Melbourne Storm went into KickYourArse.com mode on the Cronulla Sharks tonight, running out huge winners 38-6.
The Storm were brilliant in the first half, racking up 28 points over a Sharks team that were just not in the contest at all. The most resistance the Storm faced all half was when a Seagull walked in front of Cameron Smith as the Storm hooker was linking up a try conversion from out wide!
The second half wasn't as one sided but the Storm looked comfortable throughout. The Sharks managed a consolation try at the death to prevent the Storm from keeping a clean sheet. The Sharks tried hard but nothing worked for them. It was a game they will want to forget ever happened.
All of the Melbourne stars were on song, with Cronk, Smith, Slater and Widdop all looking sharp.
Its hard to know what to make of the Sharks this season. Obviously all of the off field issues they are facing will have an effect on the club. Injuries haven't helped them this season either. This was a really bad loss though, one you can't just put down to players who were missing. The Sharks simply didn't turn up ready to play tonight and it showed in the final score line.
As for the Storm, you get the feeling that this was the type of win they needed.
The Storm's form over the last month or so has been patchy at best. While the Sharks didn't offer a great deal of resistance, the Storm were able to stretch their legs, put on a few plays and maybe get some of their swagger back that has been missing recently.
Any wins the Storm get during the State Of Origin period are money in the bank. When the Storm have all of their stars on the field at this time of the year they can't afford to drop games like this. The Sharks rolled over and died in Melbourne tonight. How that effects their confidence for the rest of the season is anyone's guess.
The one bright moment for the Sharks was this tweet by SharkiesBoomBoomBoom:
[tweet_embed id=343660666487439360]
Want to see the picture up close?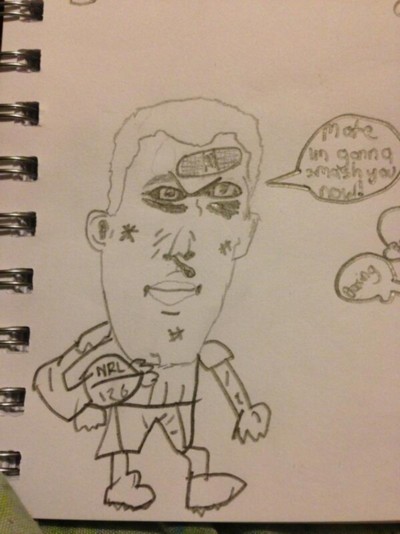 Not bad huh? I bet that brings a smile to all you Sharks fans reading this!