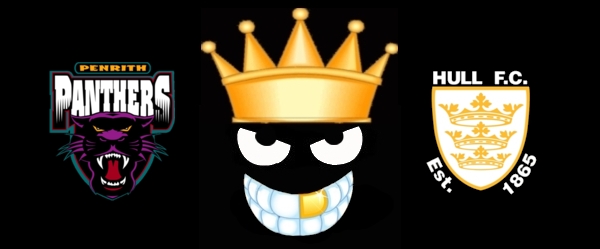 The League Freak was born on the OZLeague message forum. It was clear from the very beginning that League Freak was a hard talking, hard drinking, hard loving juggernaut from Sydneys Western Suburbs who had an unstoppable drive to educate the masses.
During his early months, he spent time hammering Souths fans whose club had just been kicked out of the NRL. However, into the 2000 Rugby League World Cup, the Freak moved onto www.playtheball.com's League forums and started to spread the gospel on an international scale.
This was a true period of growth for the Freak. It was his first interaction with British League fans…its was the time he knew he'd found his life's work.
The Glorious League Freaks love of Keiron Cunningham, Iestyn Harris, Henry Paul, Robbie Paul and Rugby Union was founded at PTB's forum as was his habit of preaching the need for soap, good dental hygiene and cold beer.
After a while PTB's lack of moderation become a problem as union fans ruined the Rugby League fans experience. Being the glorious, illustrious leader that he was, League Freak took a stand. He asked, PLEADED with PTB to install some kind of moderation. When these calls were not met, the League Freak started searching for a new home. He found TRL.
Having made the announcement of his move, the Glorious League Freak along with Chairman M, MIAG an a few other PTB regulars made the switch to TRL. This moved pretty much ended PTB's involvement in the Rugby League business.
At TRL a new era had begun.
League Freaks first post was about Wigan's fall from dominance. It caused a lot of problems with people that wrongly labeled him a Wigan fan.
During this time League Freak basically took over the TRL forums and was famously said to get more complaints about him in one week than any other poster had ever got in the lifetime of that website.
The Freak moved onto RLeague, League Unlimited and RLFans and made an impact everywhere he went. He become a phenomenon.
In late 2004 The Freak brushed TRL completely after they made a number of ridiculous demands of him. This allowed him to pour a lot more time and effort into this place, his first official web site.
Eventually he settled down at two major forums. RLFans and League Unlimited.
As League Freaks profile exploded, so to did his web site. The Official Site Of The King Of The Internet became a mecca for League fans looking to enjoy the best things the game has to offer.
The Great One brushed League Unlimited, sick of 14 year old Dragons fans who knew nothing of the game and who were threatened by his high profile.
As 2006 rolled around League Freak made a sensation by faking his own death on April Fools Day. As people mourned The Glorious One, League Freak watched on, before coming back to life much to the enjoyment, and disgust of many.
After building his web site to such glorious proportions that even he was stunned by his own magnificent creation, League Freak took his web site and profile to biblical levels as he blessed the world with leaguefreak.com and opened his own online store to allow fans to sample greatness in their own home.
In late 2006 League Freak visited to UK to sample Rugby League culture over there. He got pissed in Hull and took in the Super League Grand Final and left with a new appreciation of British Rugby League.
It was even worse than he thought!
In 2007 League Freaks Uncensored Forum really took off, becoming THE forum for Rugby League internet trolls such as Cherry Pie, Steffy (Paley) and the legendary Dutoni.
His move into multimedia saw him establish a Youtube Channel where he showcased his original work as well as the work of others, pushing awareness of the site that saw its 100,000th unique hit was registered.
Coming into 2008, the web site was rocking and rolling. This saw the site gain its first sponsor in 888.com as visitor numbers rose.
Heading into 2009, League Freak looked at keeping up with all the latest online trends, adding a Facebook Group and Twitter account to the growing League Freak network. By the end of the year the site had ticked over 750,000 unique hits.
2010 saw a few changes for League Freak as once again he looked to move with the times. By setting up a Twitter account, League Freak was now able to give his thoughts an opinions in real time, much to the dismay of English fans. It was also the year of the web sites 1,000,000th visitor.
In 2011 League Freaks influence expanded even further. By now his rants on Twitter were becoming the stuff of legend. This powered his web site to its 2,000,000th hit. Not bad for a robot that doesn't even know how his own web site works (He just says he leaves that to other people to work out!).
In late 2011 League Freaks website moved to a new server hosted by ZeroTackle.com.au
The move allowed League Freak to expand his web site and add many new features. This coupled with League Freak growing reach on social media outlets such as Facebook and Twitter saw the web site become more popular than ever before.
By this stage League Freak had moved away from posting on forums as he was able to talk directly to the masses himself. As his profile grew so too did the web site.
In early 2013 League Freak was invited to post the Facebook pages of NRL Gossip and NRL Infinite. This saw League Freak's reach expand rapidly.
In early 2014 League Freak changes the look of his web site and it finally moved to it own dedicated server. This was a moment that the great man himself described as "The web site finally putting its big boy pants on".
As of early 2014 League Freak reach spans over 6,500 followers and Twitter and over 73,000 across the Facebook pages he posts articles to.
What does the future hold for the League Freak?
Ah…..I'm gonna watch TV now.
Incredible Must Know Facts About The Glorious King Of The Internet – League Freak
Job Titles: Web Site Owner, Product Manager, Chief Editor, Media Distribution Officer, Social Media Expert, Social Commentator, New Media Developer, Rugby League Expert, Social Discussion Facilitator.
Born: Sydney, Australia
Lives: Sydney, Australia
Age: 11
Position: Wing
Favorite Player: Greg Inglis
Favorite Australian Rugby League Club: Penrith Panthers
Favorite Rugby Super League Club: Hull FC
Favorite Car: The General Lee
Favorite TV Show: The Sopranos
Favorite NBA Team: Houston Rockets
Favorite NFL Team: Dallas Cowboys
Favorite English Premier League Soccer Team: Sunderland
Favorite ALeague Soccer Team: West Sydney Wanderers
Favorite Band: AC/DC
Favorite Song: Whole Lotta Rosie
Favorite Movie: The Avengers
Favorite Video Game: Grand Theft Auto V
Favorite Saying: People Are Idiots!
Ever Lived In Penrith?: Yes
Ever Lived In Great Britain?: No
Ever Visited Great Britain?: Yes
When He Grows Up He Want To Be Like: Shane Warne
When He Grows Up He Wants To Be: A Footy Player Or A Playboy Photographer
Biggest Win On The Punt: $1,500 On Melbourne Cup Trifecta
Price Of His Wrist Watch: $350
Favorite Shoes: Nike
Favorite Drink: Coca-Cola
Favorite Real Drink: Victoria Bitter or Whiskey!
Best Player Ever Seen: Andrew Johns
Best Player Of All Time: Clive Churchill
Best Team Ever Seen: 1994 Canberra Raiders
Best Game Ever: 2003 NRL Grand Final
First Score Playing Cricket: Golden Duck
Highest Score Playing Cricket: Golden Duck
Golf Handicap: League Freak
Would Spend His Last $10 On: Big Mac Meal And A Coke
On A Scale Of 1 to 10 He rated Himself A: 97
League Freaks Official Twitter Account: https://twitter.com/LeagueFreak
League Freaks Facebook Page: http://www.facebook.com/LeagueFreak
League Freaks Soundcloud Page: https://soundcloud.com/leaguefreak
Visit League Freaks Roar Sports Profile: http://www.theroar.com.au/author/league-freak/
Visit League Freak's AboutUs.org Page: http://www.aboutus.org/LeagueFreak.com
League Freak has been published on the following web sites
TheRoar.com.au
Miss Fields Cricket Blog
SportsFreak.co.nz
Alphabetasport.com
SportsPress.com.au
BackPageLead.com.au
BlueNWhite.com.au E Magazine
80thminute.com/
RugbyLeagueHub.com