This is very clearly an unpopular opinion that I am about to put forward, but I love the idea of having a State of Origin game in Melbourne every three years.
I am originally from New South Wales, but have grown up in AFL-mad Melbourne. I will not deny that above all else, Melburnians love their Aussie Rules. But as soon as I was exposed to this great game, I fell in love with it and never looked back. That is why Origin in Melbourne is important. It is predominantly about exposure and expansion in a city that loves a variety of sport, but more importantly Victorian Premier, Dennis Napthine, has explained that funding from this partnership goes towards funding development of Victorian rugby league.
That might mean nothing to you. You might not give two hoots about grass roots in Victoria. But if any of you have children who love to play sport, look at them right now. Imagine that the sport they love is so underdeveloped where you live that they have to train in a car park because there is no field or facility available for them to train on. Because that was Young Tonumaipea's reality when he started playing league in Victoria.
But look where he is now. Look at the potential for development of future players that will only make this game greater. The expansion we are talking about is not just a few more people in Victoria giving Channel 9 more ratings. It's about growing the game from the bottom up.
This is so much bigger than most of the comments people are using to cement their whinging today, not to mention that they are largely incorrect or uninformed. I am here to set the record straight.
Myth #1 – "Origin is big enough already."
Is it? Because I shuddered the day that I had a friend ask me, "Hang on… I'm confused. Why are you talking about Cooper Cronk playing for Queensland. Doesn't he play for Melbourne?" or when I was tweeting about the Blues mid-week and I had someone very kindly advise me that Carlton wasn't playing until Saturday. These comments have become scarcer around Melbourne as league has made its mark in the last few years. Origin can only get bigger. And testing the kind of crowd we'll get at the MCG, Australia's most famous sporting ground, will determine just how big it is.
It could go one of two ways: either (1) we don't fill it, in which case Origin is not big enough already and we have more work to do; or (2) we do fill it, in which case Melbourne deserves the right to a game every three years. Take your pick.
Myth #2 – "Don't do it on NSW's year for two games."
It is part of NRL policy to have a neutral game every three years. 2015 State of Origin does not belong to New South Wales or Queensland because it falls on a year in which one game is to be played on neutral territory. "No why should Blues give up a home game. QLD wouldn't do it." The NRL tweeted that New South Wales would get two home games in 2013 and 2016, and Queensland would get two home games in 2014 and 2017. Neither team loses a home game.
By the way, if New South Wales aren't good enough to win two games just because they are playing one of them in Melbourne, they don't deserve to win the series. End of.
Myth #3 – "Knick off Melbourne… get your own."
First of all, I am imagining the backlash after an announcement that Victoria are fielding a team and State of Origin is now a three-way series. Logistically, that is just not plausible. Not to mention the fact that there are only two born and bred Victorian players playing NRL, and one soon to follow. This again re-iterates the important of exposing the state to the game in order to attract more young players into rugby league development systems.
Myth #4 – "Nobody in Melbourne cares. No one will go and there will be no atmosphere."
State of Origin Game I 2012. A sell-out crowd of over 56,000 at Etihad Stadium. The first ever game of State of Origin played in Melbourne hosted over 87,000 people at the MCG in 1994. There is so much potential in this market. Melbourne had 87,000 at a State of Origin game when they didn't even have a team in their city. Melbourne is increasingly supportive of Melbourne Storm, so I could only imagine the crowds will get even bigger.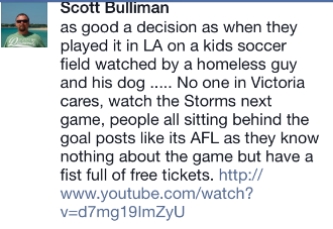 Scott Bullman: "No one in Victoria cares, watch the Storms next game, people all sitting behind the goal posts like its AFL as they know nothing about the game but have a fist full of free tickets."
Okay Scott, now it's personal. No one in Victoria cares? I urge you to take your own advice. Watch Storm's next game. But watch it from AAMI Park. See the crowd, hear the passion in their voices, and you might just change your mind. Hit me up and I'll shout you a fist full of free tickets*.
*I'll shout you like two tickets. I'm a Uni student, give me a break.
Myth #5 – "State versus State… in another state?"
Victoria does not have a team playing in the series. It is strange to have two states in a battle in front of a state that isn't fielding a team. Fair. This point I actually understand. What I don't understand are ridiculous comments like, "oh well let's move the AFL grand final to Sydney and the Melbourne Cup to Brisbane".

Oh dear. First of all, it's not the same thing. That's like moving the NRL Grand Final to Melbourne, which, yes, is 100% ridiculous. The "N" in NRL is for National, not New South Wales. Expansion is crucial. Origin is rugby league's greatest spectacle and is the best way to grow the game. I also don't think it's fair to say Melbourne has no involvement in the series given the calibre of Origin players who call the city home. What would I know though, I'm just a "Victard", eh Andrew?
Myth #6 – "Melbourne isn't neutral, they all go for Queensland."
I welcome the idea of sending an Origin game to New Zealand or Papua New Guinea or Perth or anywhere else that has strong potential to grow the game. I genuinely hope that in years to come the NRL consider it. But I have a sneaking suspicion that the response to hosting this in any other 'neutral' city would not be any better.
PS. Anybody who tried to use the argument "BUT THE MCG IS AN OVAL", please stop. You know who you are.
Follow Lauren on Twitter at: https://twitter.com/laurenmareesays
Visit Lauren's web site at: http://laurenmareesays.wordpress.com