Want I stand out from the crowd by wearing your very own League Freak t-shirt?
Well now you can!
I have made a limited run of League Freak t-shirts that will be sold on a first come, first serve basis.
You need to get in quick because once they are gone, they are gone forever!
There are two different styles of t-shirts you can buy. This is what they look like. Click the pictures to enlarge them: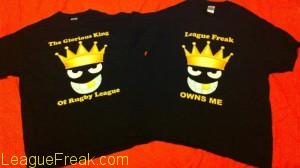 This is what you find on the back: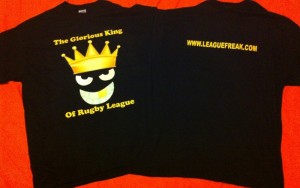 Here are the number of t-shirts on sale:
League Freak Owns Me:
Xtra Large: 2
Large: 2
Medium: 3
The Glorious King Of Rugby League:
Xtra Large: 3
Large: 3
Medium: 2
Size To Fit Chest (Inches)
XL(46/48)
L (42/44)
M (38/40)
Each t-shirt costs £16 plus £5 to cover postage and handling. All payments are to be made through PayPal.
If you would like to purchase a t-shirt simply fill out the comments box below with the t-shirt design you want, the size you are after, the number of t-shirts you would like and any other comments you would like to add. League Freak will get back to you ASAP:
[contact_form]