Sports apparel manufacturer ISC is set to release a set of Marvel branded NRL jerseys.
ISC produces NRL jerseys for the North Queensland Cowboys, Manly Sea Eagles, Sydney Roosters, St George/Illawarra Dragons and Canberra Raiders, all of which will get their very own Marvel branded jersey that is set to capture the look of some of the worlds best known superheroes.
A picture of the jerseys set to be released has been leaked on social media, the version below I found on The Kennel forum: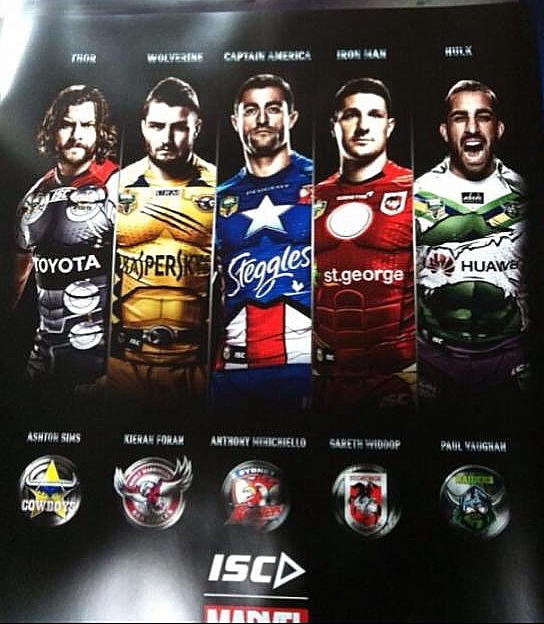 The North Queensland Cowboys will be decked out at Thor, the Manly Sea Eagles as Wolverine, the Sydney Roosters as Captain America, the St George/Illawarra Dragons as Iron Man and the Canberra Raiders as The Incredible Hulk.
These jerseys look amazing! I'm not a St George/Illawarra Dragons supporter but I am seriously thinking about buying that Iron Man jersey! I only wish the Penrith Panthers were a part of this promotion. I guess I can keep my fingers crossed that they do a Batman version of their jersey one day!
Here is a teaser trailer from ISC about their Marvel Superheroes jersey release:
If your club didn't announce a Marvel branded jersey click here to see which superhero would best represent your club: The Superhero Jersey Your Club Should Be Wearing