The Daily Telegraph is reporting that a photograph by Gregg Porteous shows Manly Sea Eagles forward Josh Starling allegedly eye gouging South Sydney forward Dave Tyrrell.
Take a look at the photo and see what you think: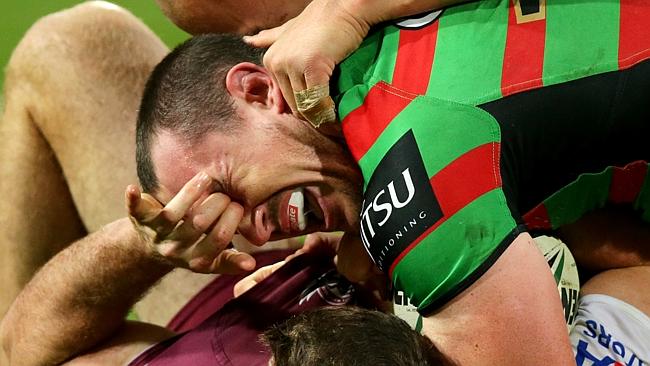 The picture looks pretty damning but I think you have to be very careful when it comes to still shots of incidents like this.
I tend to think that you need to see video of these incidents and then also rely on the player who is the alleged victim in these matters to work out if there is a case to answer.
What we are seeing here is a fraction of a second. It may be a moment in which Dave Tyrrell just thought his face got roughed up a bit rather than there being any intent to eye gouge him.
Over the years there have been some shocking incidents of eye gouging. Over the last 30 years however that sort of thing has well and truly been stamped out of the game. When it happens now it is a shock, and so I think everyone should be very careful when looking at a still photo and condemning a player based on that alone.
At the end of the day if Dave Tyrrell didn't feel like he was being eye gouged, then he wasn't eye gouged.
The Daily Telegraph is using this, a "chicken wing" tackle on Steve Matai, and Josh Reynolds brain snaps to label this a disgraceful weekend of on field behaviour in the NRL. Its a bit overly dramatic if you ask me!
I think the worst thing that happened weekend was Josh Reynolds tripping incident against Ben Barba, and I think it is universally accepted that Reynolds will spend some weeks on the sideline for that alone.
The on field behaviour of Rugby League players has improved out of sight over the last 30 years or so. Even accidents like head high tackles are not as bad as they use to be. You don't see players clotheslined like they once were for instance. These days a high tackle is more likely to be a slap across the face.
We will see what comes out of this alleged incident. I'm hoping it looks a thousand time worse in that picture than it actually felt for Dave Tyrrell.