Everybody has been on about why the Newcastle Knights were so bad in the past 12 months. But, the reasons couldn't be clearer and the Knights need to rebuild their team if they plan to be challengers. We would rather claim a bonus at Casino.com, than bet on the Newcastle Knights anytime soon to make some results. What's even worse, players seem to constantly abandon the sinking ship. Having to let go Clint Newton, Beau Scott and Kurt Gidley last year, the club has officially experienced one of the worst player turnovers in the last seasons.
Much of the players' departure was self-inflicted, but coach Nathan Brown has drawn some lines in the sand too resulting in a talent loss. This season alone the Knights let go Tariq Sims and Joseph Tapine. The decision behind not signing them again was money. These two releases were strongly motivated by finances, and that way the club was able to save a quarter of Sims' salary which they intend to use to upgrade some of the young stars.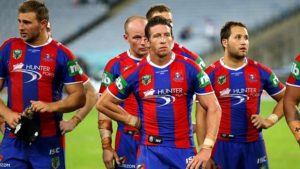 For coach Brown it is clear that the red and blue jersey should be worn only by players that want to commit their future to the team. It's the line in the sand that he has drawn in an attempt to restore the mindset in the club. Last year Rick Stone was unable to overlook poor performances. He mostly selected players based on their pay packet, which was enough to cause disharmony within the team. It was actions like that that cost Stone his job. On top of that, the Knights have had a nasty salary cap, which they need to clean up.
Darren Mooney and Brown have had a lot to deal with, from grossly overpaid players to players being shipped out of the club while still on the books. For example, Clydsdale, Houston and Roberts are still sitting partly on the club's books this season despite deemed surplus last year. However, if Roberts stayed at the Knights, he was set to be paid close to $400,000. In 2013 Aku Uate concluded a 4-year deal for $500,000 per season and three years later and Uate is languishing in reserve grade. These are only few of the cases where players are overpaid compared to their performance.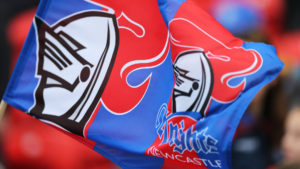 What Newcastle needs to do is to get out of this situation. The future is grim, but focusing on youngsters like Saifiti, Levi, Lamb, Cogger, Denniss and King, 2016 may end up well for them. These players need to gain experience without any real expectations, which may prove to be crucial for the team's future. In the end Brown will be applauded for introducing genuine competition within the group and looking to youth. The mess won't be fixed instantly, but as they say, patience is virtue.