Castleford Tigers standoff Rangi Chase has opened up to TheSun.co.uk about the abuse he received after making the decision to play for England.
Chase has described his treatment as "discriminatory" and pointed to examples in other sports where people born and raised outside of England turn out for England.
You know what Rangi, I've got some really bad news for you…
You're not English. You should not be turning out for England.
Rangi Chase was born and raised in New Zealand. He made his first grade debut for the Wests Tigers back in 2006. The following season he would play for the St George/Illawarra Dragons but he would leave the club at the end of 2008, the same year he was involved in an assault on the Gold Coast.
Chase played for the New Zealand Maori in 2008 and again in 2010. Look, this is a picture of him playing for the New Zealand Maori against England: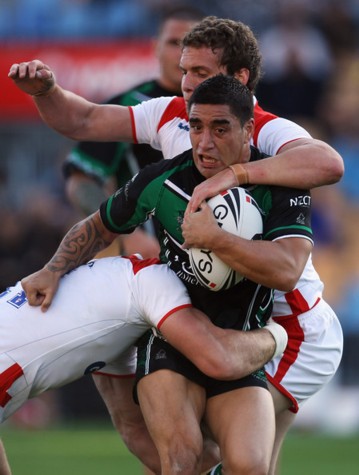 By 2011 Rangi Chase had firmly established himself in Super League. So much so that he was selected in the "Exiles" sides to take on England in the International Origin clash.
Look, this is a picture of Rangi Chase playing for the Exiles, once again against England: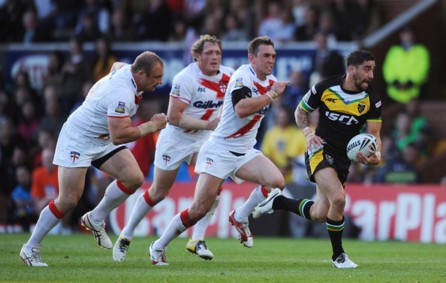 That Exiles game was played on the 10th of June 2011. So I'm guessing back then as he ran past some insignificant English players he probably didn't feel very English at all!
After winning the man of the match award in that game Chase would go on to win the Man Of Steel award. It was a fantastic effort, especially when you consider that he played for a club like Castleford!
On the 3rd of October 2011 Rangi Chase declared himself as an Englishman and has played for England ever since.
Now at the end of last year Chase was rumoured to be on his way to Hull FC. He couldn't make that move though because of visa issues. Because he's not English.
I understand that Rangi Chase lives in England, he has an English wife and he has a child that was born in England, but that doesn't make him English in the same way that Joel Monaghan didn't turn into a border-collie during that famous Mad Monday down in Canberra a number of years ago.
Rangi Chase tried to move back to Australia just a few months ago. It was very close to happening too! He blames salary cap restraints for things breaking down but since then the St George/Illawarra Dragons have brought in Josh Dugan this season and signed Gareth Widdop on a big deal for 2014 on wards. Money wasn't an issue…
Feeling English works out pretty well for Rangi Chase. Every time he plays for England he receives match payments. When you consider that he is a long way off of ever being considered to play for New Zealand, why wouldn't he take a walk up start for the England team if they come knocking.
Is it right? Of course not. In the same way that it is a farce that James Tamou plays for Australia, Rangi Chase should not be playing for England. I don't particularly care what happens in other sports, their eligibility issues do not constantly undermine international Rugby Leagues credibility.
Rangi Chase can piss and moan all he likes about the "discrimination" he receives when he pulls on an England jersey. The fact is that people don't like him playing for England because he's not bloody English! If he doesn't like his treatment maybe he should, you know, stop playing for England!
Rangi Chase isn't that good of a player and that means that the chances of him every playing in the NRL again are pretty slim. That mean he is likely to play out his entire career in England.
He is applying for UK citizenship, a move that would allow him to move away from the Castleford Tigers and to a so called "bigger" club. That won't make him any more English than Sam Burgess' Australian citizenship will make big Sammy an Australian. Its just a move made out of convenience.
The sooner we stop allowing football players to pick and chose who they represent, the better. Rangi Chase is taking the place of an English player, and that is wrong. His presence in the English team undermines over a century of tradition and makes it very hard to take the international game seriously.
In the same that it is wrong to see James Tamou wearing Green and Gold and playing against the Kiwi, Rangi Chase should not be playing for England.
That is not discrimination, that is just common sense!