Our campaign scaled the new heights of reaching the home of the European Super League this week when we delivered our 12,000+ signature petition to Red Hall in Leeds.
We felt the time was right and no further signatures would make that much difference to our campaign to rename the 'Man of Steel' award after former Hull Fc, St Helens, Wakefield and International full back Steve Prescott MBE.
The RFL are acutely aware of the fans wishes to rename the award and we now leave our hard work in their hands with our fingers firmly crossed for what most people believe to be a true and proper tribute to the legend.
There have been many tributes mooted but the main one the lifeblood of the game would love is for Steve to be remembered eternally in this award, placing Steve firmly among the elite such as Lance Todd and Harry Sunderland.
We are also running a facebook page called 'Steve Prescott Man of Steel Campaign' look us up and join an amazing group of like-minded people.
And to quote Steve, who raised over £500,000 for charity after being diagnosed in 2006,
"A challenge isn't a challenge unless it's challenging"
Great words from a much missed man.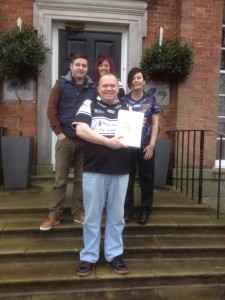 Click here to visit the Steve Prescott Foundation: http://www.steveprescottfoundation.co.uk
Clive here to visit the Steve Prescott Man Of Steel Campaign Facebook page: https://www.facebook.com/groups/169476099922337/