It is a case of not if, but when the Penrith Panthers will receive funding for either a massive upgrade to Penrith Football Stadium, or a completely new stadium being built. Whether it be on the site of the current stadium or across the road at the Penrith Paceway, it seems like everyone involved in the decision making process is open to the Panthers getting a new stadium.
So, what should this stadium incorporate to make sure it is not only one of the best venues in the NRL, but that it is future proof and will be a great ground for what is currently the greatest Rugby League team on planet earth? #Arrogant
I had a chat this week with Penrith Panthers superfine Nadine about this on the Fergo and The Freak podcast!
I personally believe an exact replica of Bankwest Stadium at Parramatta would be ideal. A 30,000, all seater stadium. Of course, I would make changes to the facade of the stadium to make it fit in with the Penrith Panthers theme, but that is sure to occur anyway.
Nadine put forward that one end of the ground should be left open as a hill section. That got us thinking….
Having a statue at this ground is a must. We need to commemorate Penrith Panthers history. What batter way to do that than have a giant statue of the great Royce Simmons standing outside of the ground. One with bars either side of the statue that serve nothing but beer. That way everyone that wants to can finally have a beer with Royce Simmons!
Lets go one step further through…
What if that statue was able to be rotated and raised just before the kickoff to first grade, and so this giant statue of Royce Simmons emerges over the top of the hill section at the new stadium? How amazing would that be!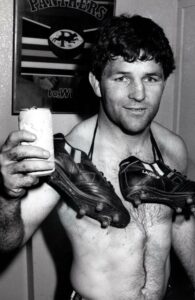 We could have one former Penrith Panthers player start every game off by having a beer with Royce. That would be way better than playing some stupid fake horn!
A walkway over Mulgoa Road would also be a welcome addition as well as plenty of parking to make getting to and from games a breeze.
It goes without saying the the majority of the outside of the stadium should be dressed in black, the teams colours, and with better all round facilities, better foot outlets, and it being easier to get to and from games, I personally think it would be well worth making sure the stadium can accomodate 30,000 fans on game day.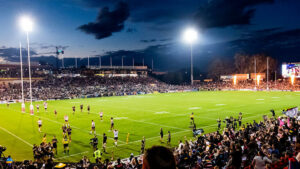 There are so many fun additions you could have at a new Penrith Panthers Stadium. Lets hope the club, the NRL and the NSW State Government come to the party and not just build a venue, but a true home for our mighty football team!