First up let me say that Sam Thaiday had EVERY right to blow up over the decision to award Billy Slater a try last Friday Night but he had NO right to touch a referee in his protest.
One of the first rules you are taught as a child in any sport is respect the referee and under no circumstance can you lay a hand on any official. I played junior league for a season at the age of 5, and I knew no matter how bad a decision I was not able to touch a referee, Sam Thaiday has played over 150 first grade games for the Broncos and has represented his state and country many times, he should have known better.
Last night a Broncos fan said that if the referee hadn't made an error, the Broncos wouldn't be without their captain this weekend. This is a complete cop out, as if Sam Thaiday had not made an error he would be lining up this weekend against The Titans. If there was a loophole allowing players to belt a referee every time they made an error, there would be no referee's left to make errors. Referees are human and make mistakes.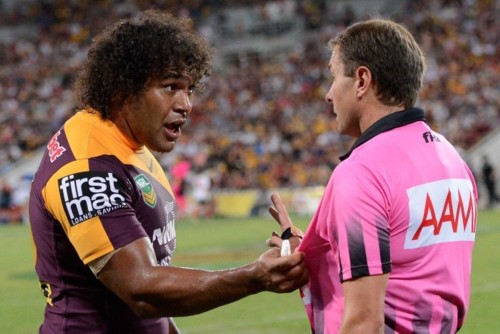 The contact made between Thaiday and Adam Devcich was minimal and Thaiday apologised both personally and in the media. He admitted fault and dedicated an entire column to explaining what had happened and why it would not happen again. Thaiday's response to his lapse in judgement saved him from a much larger suspension.
Perhaps the Broncos official twitter account could learn a thing or two on how to handle tough situations publically. After asking if Thaiday's actions were justified based on the referee error, I amongst others mentioned that nothing justifies touching a referee's shirt to his response:

Touching a referee's shirt is exactly the same as touching a referee and the above tweet needs to be apologised for and removed. I understand the frustration of Broncos fans but there really is no justification in touching a referee as Thaiday did. A one week suspension should be accepted and never spoken of again by Broncos players and fans alike.
Former Central Coast Mariners keeper Danny Vukovic made contact with referee Mark Breeze in the 2008 A-League grand final in the final moments of the match. After a handball was missed Vukovic raced from the attacking position he was in as the Mariners through everyone forward looking for an equaliser and pushed Breeze's arm as he waved away penalty attempts. As with Thaiday's actions this was heat of the moment stuff and would not have even bruised the referee. Breeze issued a red card and Vukovic raced off the ground.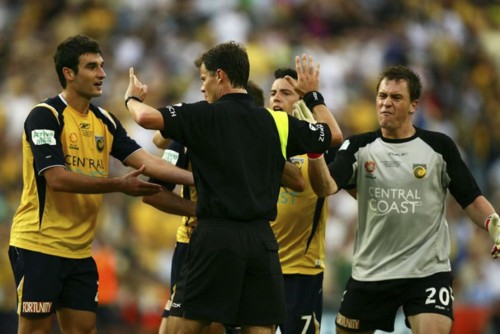 Vukovic was suspended for 15 months even after issuing both a private and public apology after his brain snap. This ban also cost him his spot at the Olympic Games with the Olyroos. The player suffered and the team suffered as Vukovic was by far and away the best under 23 keeper the country had at the time. To his credit Vukovic's credit he copped the ban on the chin and returned to the game. Thaiday will do the same, after missing one game, considerably less than the 15 months and opportunity of a life time suffered by Vukovic.
Thaiday could have and should have reacted differently considering his experience. To demonstrate his point he could have tugged on his own shirt or just described the issue. The evidence was clear, Thaiday was held back but once again there is NO justification for grabbing a referee's shirt in the way Thaiday did. He will be back in a week's time and should feel very fortunate to do so; it could have been much MUCH worse!