Jarome Luai is a 26 years old, three time Premiership winner, a State Of Origin representative for New South Wales, and the best player at the 2022 World Cup when he led Samoa to the final against Australia.
Needless to say, he is a very good player and a key part of the best side in the modern games history.
As of November 1st 2023 Jarome Luai has the ability to negotiate with opposition clubs to secure well deserved financial security. Obviously in an ideal world he would be able to do that at the Penrith Panthers, but salary cap constraints are an issue, and so Luai will more than likely be able to earn more money per season, over a longer term deal at another club.
Good luck to him too. He deserves it!
That is what makes Panthers coach Ivan Cleary's comments on Luai's value on the open market so outrageous.
Cleary suggested that any clubs looking to pay big money to Luai would be taking a "risk" and then claimed that Luai had not proven he could be a teams number of playmaker. These are devastating comments for a player looking to gain as much money as he can on the open market, especially from his own clubs coach.
What makes it worse is that Cleary is poisoning the well in the hope that Luai's value on the open market is damaged, and therefore the Panthers can re-sign Luai at a lower price!
I have watched every single match Jarome Laui has played for the Penrith Panthers. He has been extremely reliable for the club. When other playmakers were not in the side due to injury or suspension, Luai is there to guide the team around the park and continue the winning ways the current Panthers side has become famous for.
It is no coincidence, and no mistake that Jarome Luai has a career winning percentage of 82.4% over the course of his career for the Panthers. For comparison Nathan Cleary has a 70.4% winning percentage,. the great Cameron Smith had a 72% winning percentage, Darren Lockyer had a 66.7% win percentage and Norm Provan had a 76% win percentage.
As you can see, Luai wins games as beyond an historic rate. There is no question what so ever about his ability to win Rugby League games.
Luai played in the Penrith Panthers 2023 Preliminary final and Grand Final with a shoulder injury that would have seen most players out for the season. He came back extremely early from injury and played very well considering he was so physically compromised.
You can't question his ability to win games, you can't question his toughness, you can question his drive to success and you can not question that he a major reason for the Penrith Panthers success.
So how do you think he felt when the comments his own coach made were carried far and wide, underplaying his value to the Panthers success and suggesting that he was a risk for other clubs to sign?
Immediately after Cleary's comments Jarome posted this to his instagram: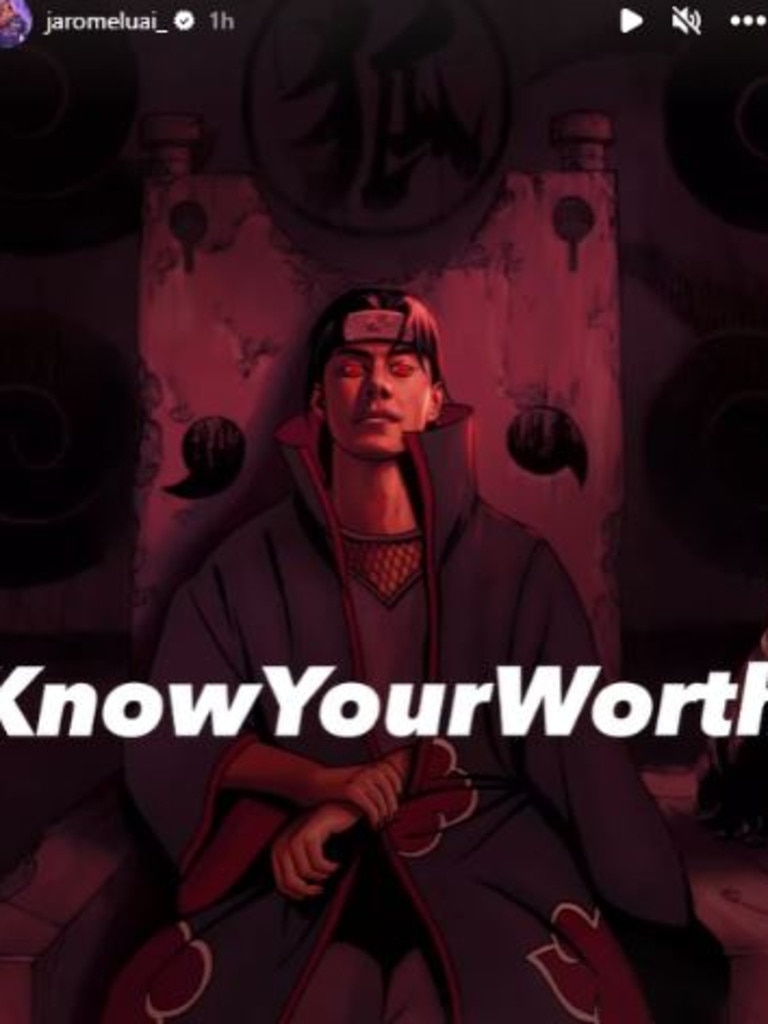 To undermine the value of a key player to the Panthers success like that was nothing short of disgusting by Ivan Cleary. To do so as that same player is looking to secure his financial future, having just ruined his shoulder to help the team success, is even worse.
As a former player himself Ivan Cleary should know better.
I would also suggest that Cleary's comments make it way less likely that Luai will be willing to re-sign with the Panthers under any circumstances. Why would he want to play for a coach that thinks so little of him, at a club trying to undermine his earning capacity?
I hope Jarome Luai gets the most amount of money possible and continues his success within the game. I hope that's at Penrith, but if its elsewhere, I will still be very happy for him.
No one, not even the clubs coach, can undermine what Luai has done over the last number of years in the NRL. His record speaks for itself. He has already written himself into the history books. He has already achieve more at 26 years of age that some of the games greats managed to achieve over an entire career.
Luai has nothing to prove to anyone at all. He's done it already. Now its time to get paid!