Here you can find the 2024 National Rugby League Draw! Every NRL game that is played in 2024 will be listed here for you to go through and plan your season ahead!!
Bookmark this page to see where your team plays and against who in 2024!
As soon as the draw is announced we will be doing a FULL preview on Fergo and The Freak.
2024 NRL Pre Season Challenge Draw
Thursday, February 15
7.00pm – Bulldogs v Storm at Belmore Sports Ground
Friday, February 16 at Queensland Country Bank Stadium
Time TBC – Indigenous All Stars women v Māori All Stars women
Time TBC – Indigenous All Stars men v Māori All Stars men
Saturday, February 17
1.45pm – Knights v Sharks at Industree Group Stadium
3.45pm – Roosters v Sea Eagles at Industree Group Stadium
5.55pm – Eels v Raiders at Netstrata Jubilee Stadium
8.05pm – Rabbitohs v Dragons at Netstrata Jubilee Stadium
Sunday, February 18
2.00pm – Warriors v Wests Tigers at Apollo Projects Stadium, Christchurch
4.00pm – Cowboys v Broncos at BB Print Stadium, Mackay
6.15pm – Dolphins v Titans at Sunshine Coast Stadium
Friday, February 23
6.00pm – Rabbitohs v Roosters at PointsBet Stadium
8.00pm – Sharks v Bulldogs at PointsBet Stadium
Saturday, February 24
1.45pm – Storm v Knights at Venue TBC
3.45pm – Warriors v Dolphins at Go Media Stadium
5.55pm – Sea Eagles v Broncos at 4 Pines Park
8.05pm – Dragons v Wests Tigers at Glen Willow Stadium, Mudgee
Sunday, February 25
3.00pm – Raiders v Cowboys at Seiffert Oval, Queanbeyan
5.00pm – Titans v Eels at North Ipswich Reserve, Ipswich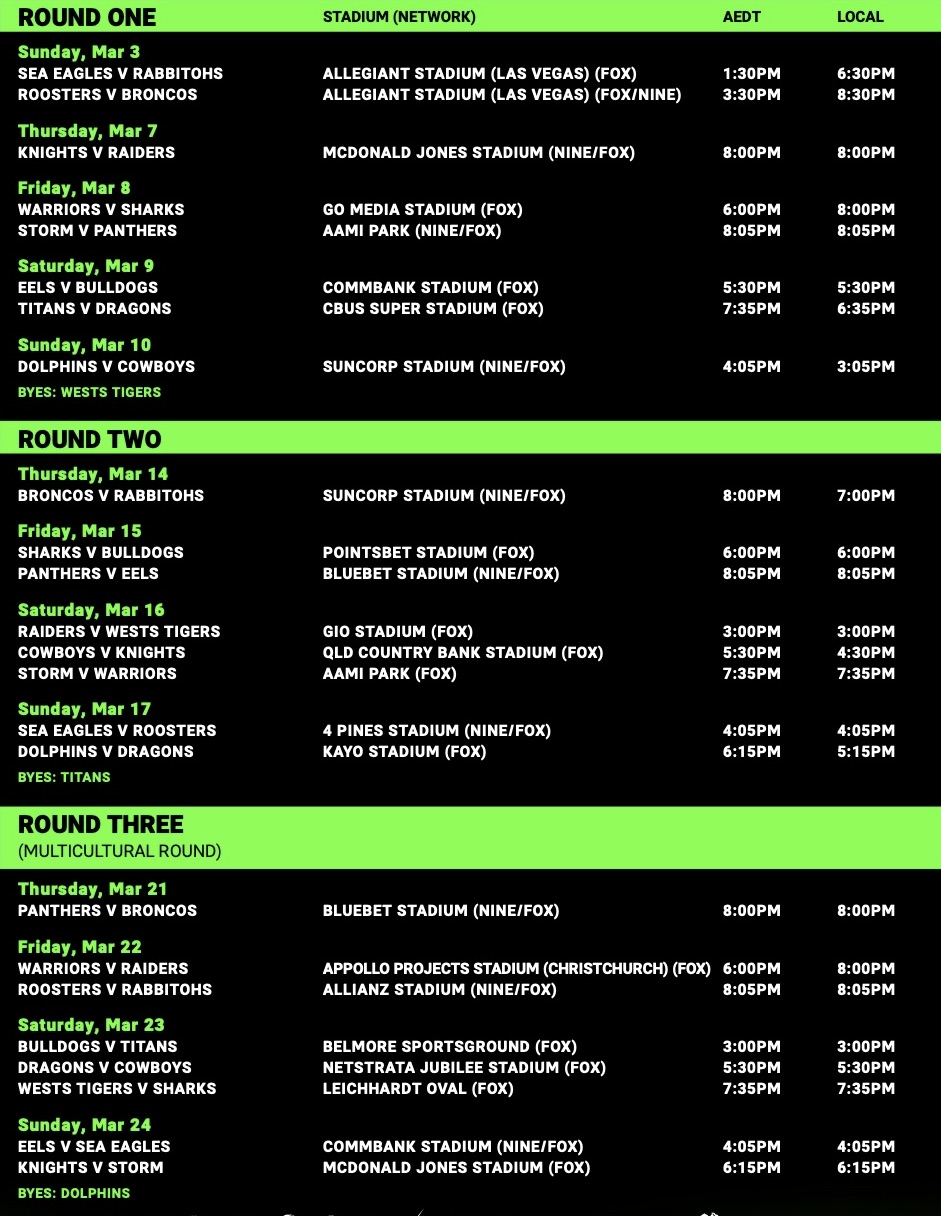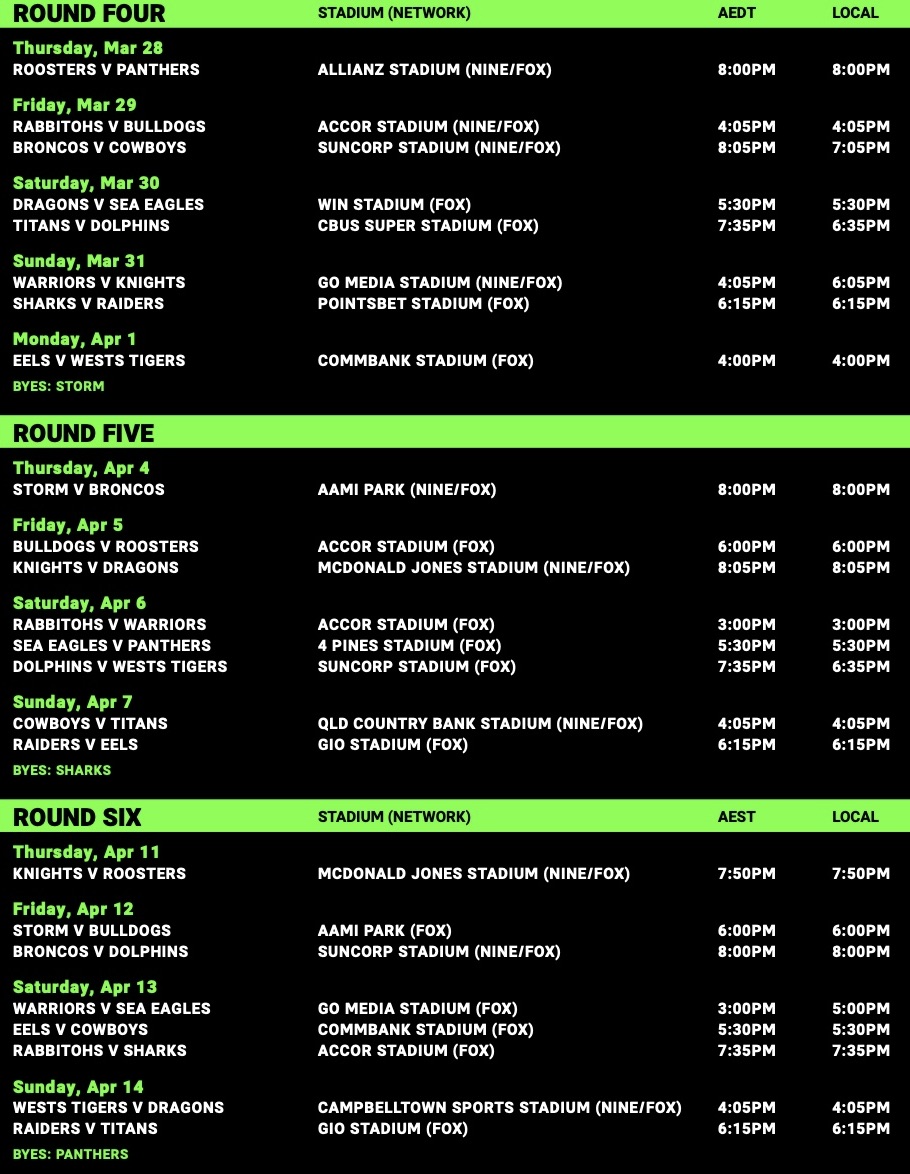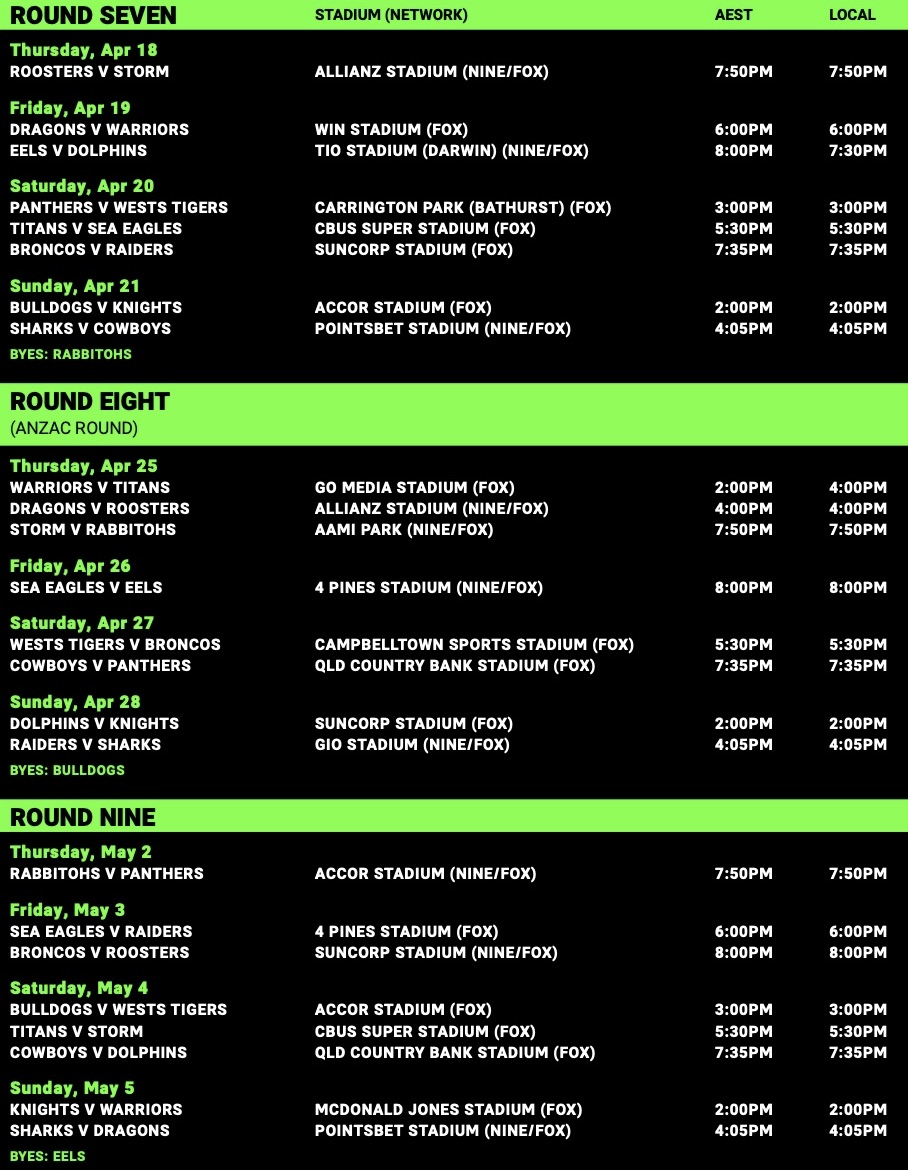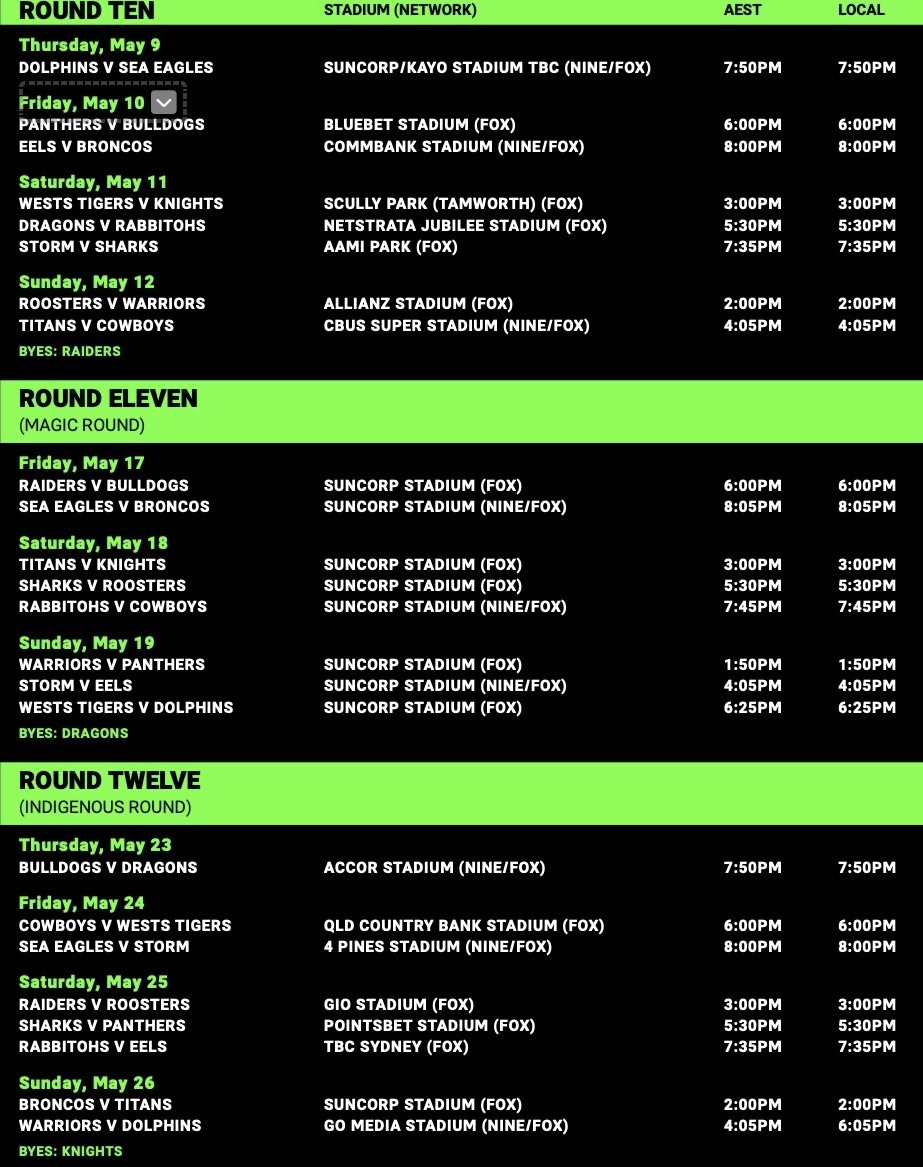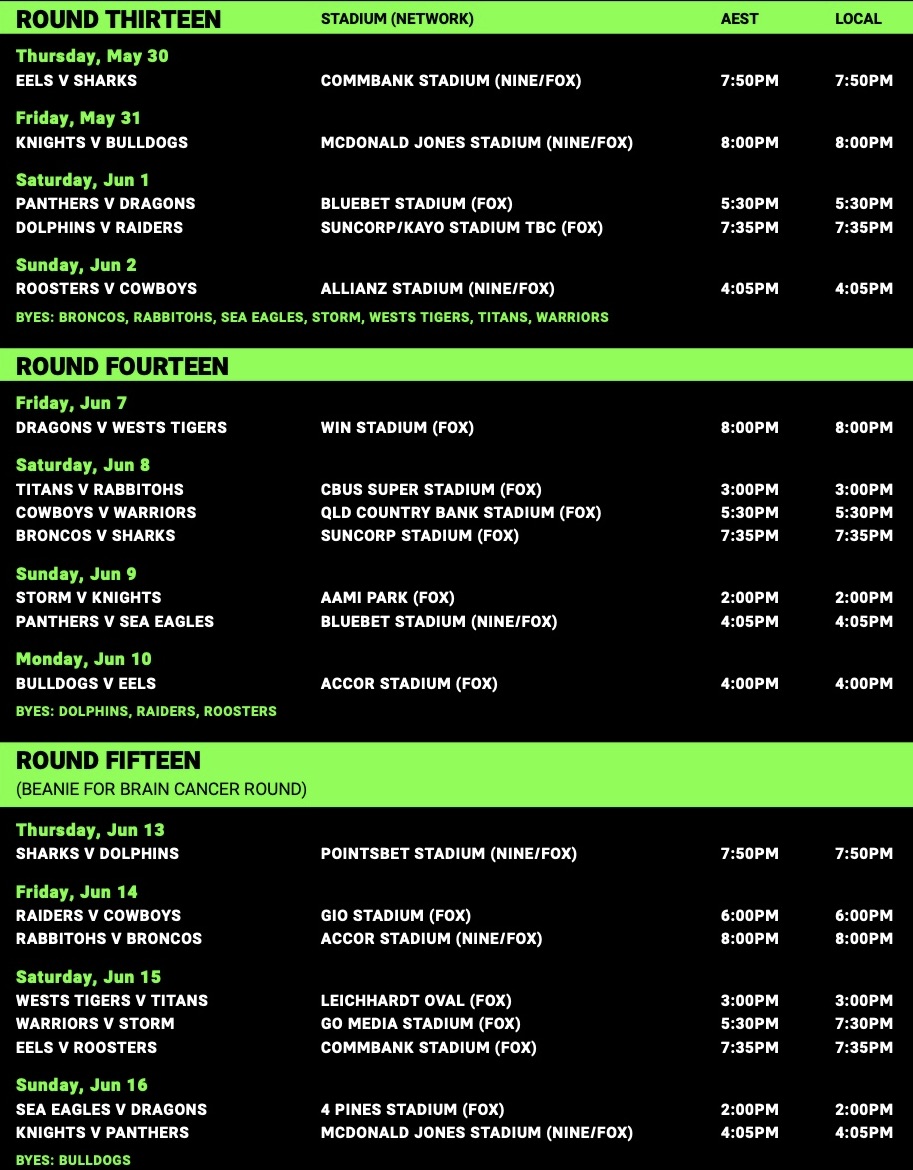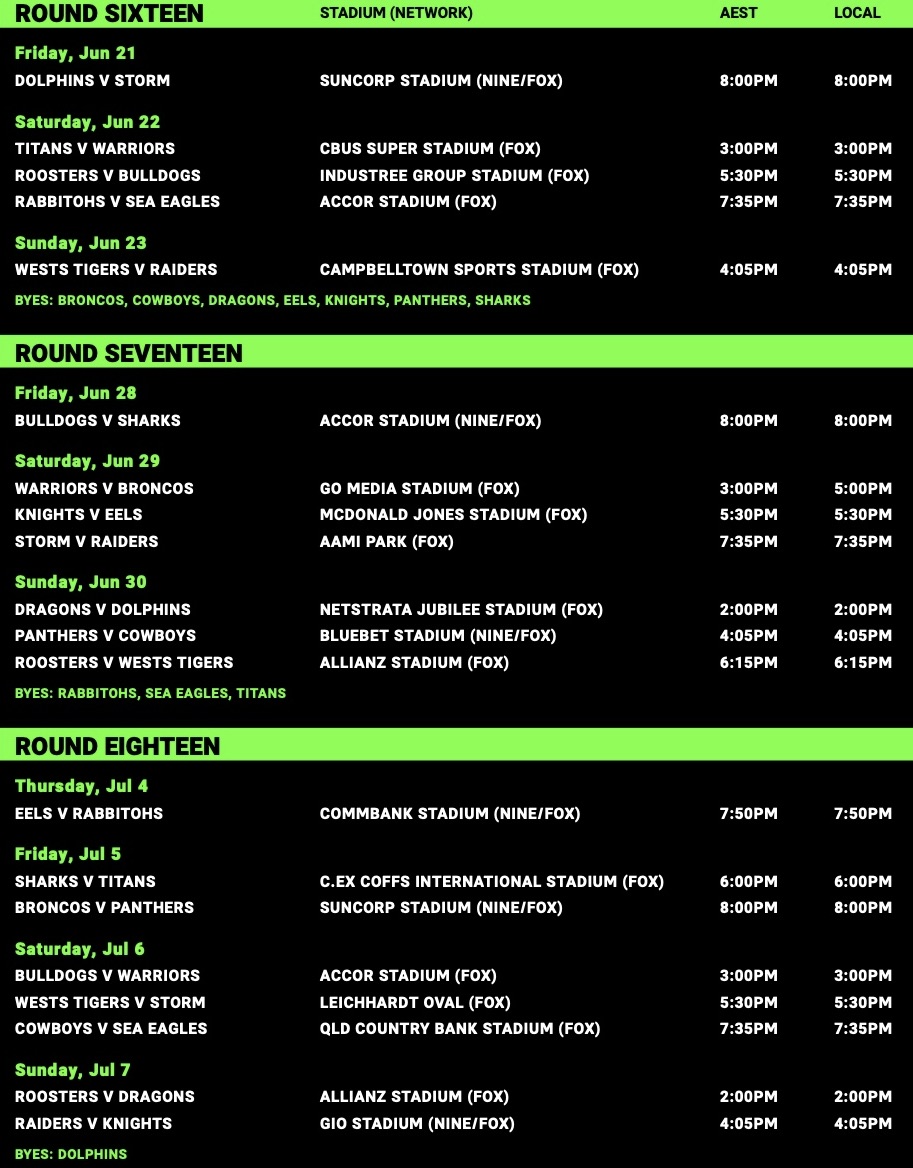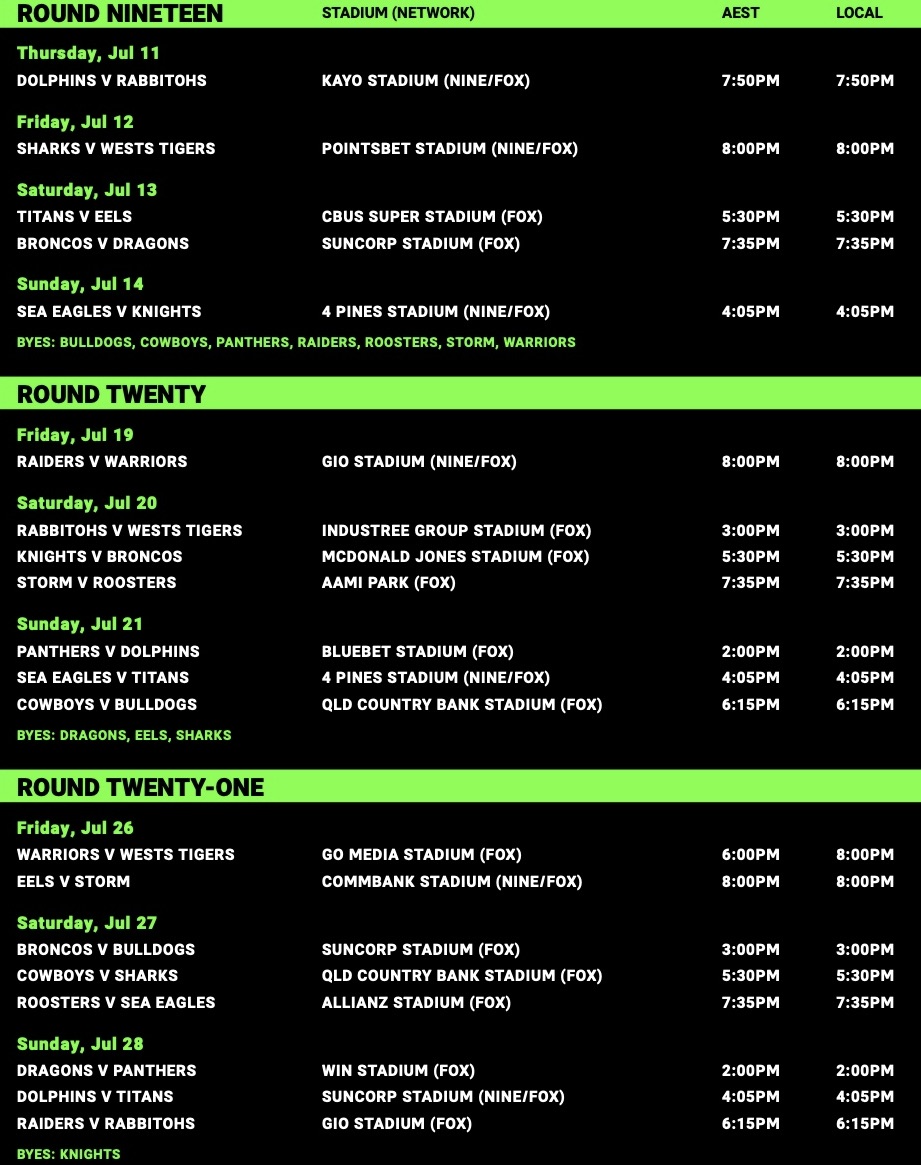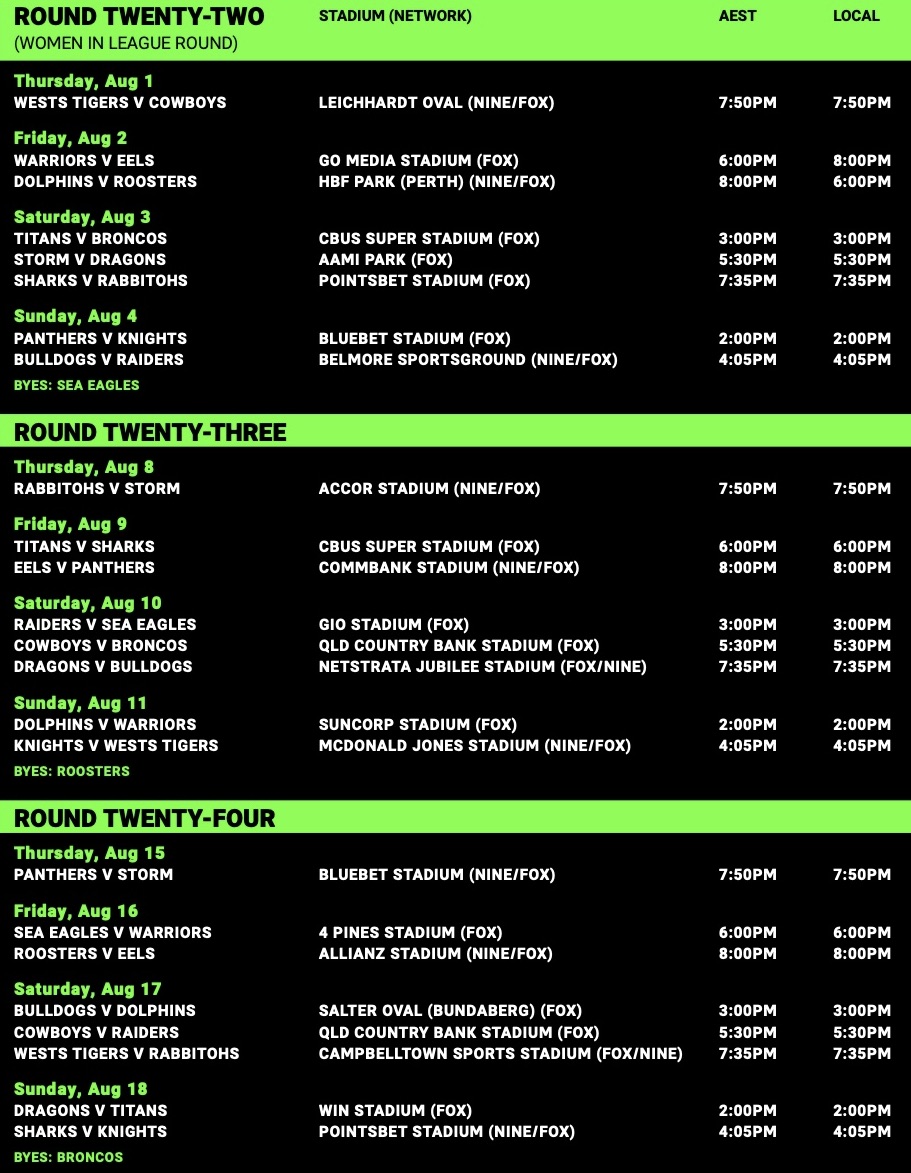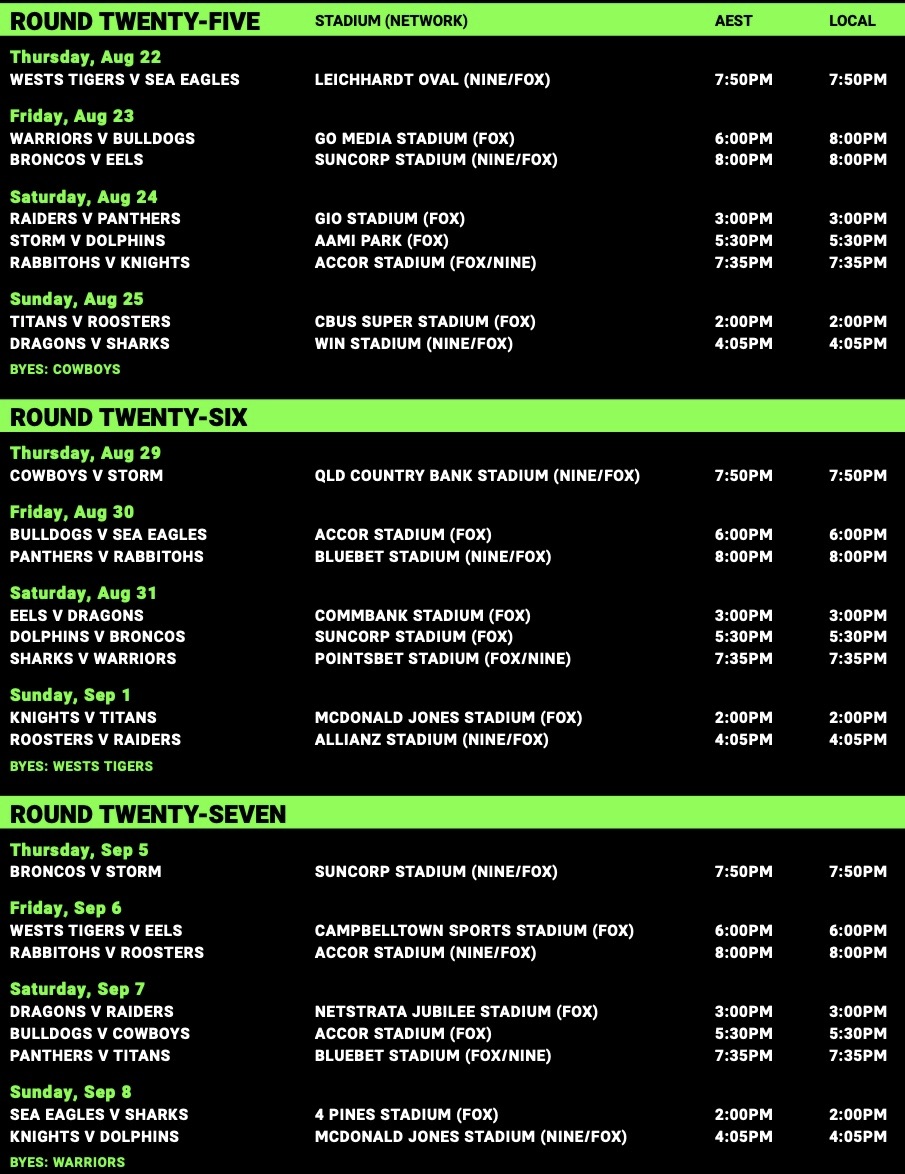 Here you will find all the information you need regarding the 2024 Rugby League State Of Origin series.
2024 State Of Origin Game One
Date: Wednesday June 5th, 2024
Venue: Accor Stadiums, Sydney
2024 State Of Origin Game Two
Date: Wednesday June 26th, 2024
Venue: Melbourne Cricket Ground, Melbourne
Buy State Of origin Tickets: Click Here To Buy Tickets To State Of Origin Two In 2024
2024 State Of Origin Game Three
Date: Wednesday July 17th, 2024
Venue: Suncorp Stadium, Brisbane
| | | | | | | | |
| --- | --- | --- | --- | --- | --- | --- | --- |
| Day | Month | Year | Round | Kick-Off | Home | Away | Venue |
| 3 | 3 | 2024 | 1 | 18:30 | Manly-Warringah Sea-Eagles | South Sydney Rabbitohs | Allegiant Stadium |
| 3 | 3 | 2024 | 1 | 20:30 | Sydney Roosters | Brisbane Broncos | Allegiant Stadium |
| 7 | 3 | 2024 | 1 | 20:00 | Newcastle Knights | Canberra Raiders | McDonald Jones Stadium |
| 8 | 3 | 2024 | 1 | 20:00 | Warriors | Cronulla-Sutherland Sharks | Go Media Stadium |
| 8 | 3 | 2024 | 1 | 20:05 | Melbourne Storm | Penrith Panthers | AAMI Park |
| 9 | 3 | 2024 | 1 | 17:30 | Parramatta Eels | Canterbury-Bankstown Bulldogs | CommBank Stadium |
| 9 | 3 | 2024 | 1 | 18:35 | Gold Coast Titans | St George-Illawarra Dragons | Cbus Super Stadium |
| 10 | 3 | 2024 | 1 | 15:05 | Dolphins | North Queensland Cowboys | Suncorp Stadium |
| 14 | 3 | 2024 | 2 | 19:00 | Brisbane Broncos | South Sydney Rabbitohs | Suncorp Stadium |
| 15 | 3 | 2024 | 2 | 18:00 | Cronulla-Sutherland Sharks | Canterbury-Bankstown Bulldogs | Pointsbet Stadium |
| 15 | 3 | 2024 | 2 | 20:05 | Penrith Panthers | Parramatta Eels | BlueBet Stadiuim |
| 16 | 3 | 2024 | 2 | 15:00 | Canberra Raiders | Wests Tigers | GIO Stadium |
| 16 | 3 | 2024 | 2 | 16:30 | North Queensland Cowboys | Newcastle Knights | QLD Country Bank Stadium |
| 16 | 3 | 2024 | 2 | 19:35 | Melbourne Storm | Warriors | AAMI Park |
| 17 | 3 | 2024 | 2 | 16:05 | Manly-Warringah Sea-Eagles | Sydney Roosters | 4 Pines Stadium |
| 17 | 3 | 2024 | 2 | 17:15 | Dolphins | St George-Illawarra Dragons | Kayo Stadium |
| 21 | 3 | 2024 | 3 | 20:00 | Penrith Panthers | Brisbane Broncos | BlueBet Stadiuim |
| 22 | 3 | 2024 | 3 | 20:00 | Warriors | Canberra Raiders | Apollo Projects Stadium |
| 22 | 3 | 2024 | 3 | 20:05 | Sydney Roosters | South Sydney Rabbitohs | Allianz Stadium |
| 23 | 3 | 2024 | 3 | 15:00 | Canterbury-Bankstown Bulldogs | Gold Coast Titans | Belmore Sportsground |
| 23 | 3 | 2024 | 3 | 17:30 | St George-Illawarra Dragons | North Queensland Cowboys | Netstrata Jubilee Stadium |
| 23 | 3 | 2024 | 3 | 19:35 | Wests Tigers | Cronulla-Sutherland Sharks | Leichhardt Oval |
| 24 | 3 | 2024 | 3 | 16:05 | Parramatta Eels | Manly-Warringah Sea-Eagles | CommBank Stadium |
| 24 | 3 | 2024 | 3 | 18:15 | Newcastle Knights | Melbourne Storm | McDonald Jones Stadium |
| 28 | 3 | 2024 | 4 | 20:00 | Sydney Roosters | Penrith Panthers | Allianz Stadium |
| 29 | 3 | 2024 | 4 | 16:05 | South Sydney Rabbitohs | Canterbury-Bankstown Bulldogs | Accor Stadium |
| 29 | 3 | 2024 | 4 | 19:05 | Brisbane Broncos | North Queensland Cowboys | Suncorp Stadium |
| 30 | 3 | 2024 | 4 | 17:30 | St George-Illawarra Dragons | Manly-Warringah Sea-Eagles | WIN Stadium |
| 30 | 3 | 2024 | 4 | 18:35 | Gold Coast Titans | Dolphins | Cbus Super Stadium |
| 31 | 3 | 2024 | 4 | 18:05 | Warriors | Newcastle Knights | Go Media Stadium |
| 31 | 3 | 2024 | 4 | 18:15 | Cronulla-Sutherland Sharks | Canberra Raiders | Pointsbet Stadium |
| 1 | 4 | 2024 | 4 | 16:00 | Parramatta Eels | Wests Tigers | CommBank Stadium |
| 4 | 4 | 2024 | 5 | 20:00 | Melbourne Storm | Brisbane Broncos | AAMI Park |
| 5 | 4 | 2024 | 5 | 18:00 | Canterbury-Bankstown Bulldogs | Sydney Roosters | Accor Stadium |
| 5 | 4 | 2024 | 5 | 20:05 | Newcastle Knights | St George-Illawarra Dragons | McDonald Jones Stadium |
| 6 | 4 | 2024 | 5 | 15:00 | South Sydney Rabbitohs | Warriors | Accor Stadium |
| 6 | 4 | 2024 | 5 | 17:30 | Manly-Warringah Sea-Eagles | Penrith Panthers | 4 Pines Stadium |
| 6 | 4 | 2024 | 5 | 18:35 | Dolphins | Wests Tigers | Suncorp Stadium |
| 7 | 4 | 2024 | 5 | 16:05 | North Queensland Cowboys | Gold Coast Titans | QLD Country Bank Stadium |
| 7 | 4 | 2024 | 5 | 18:15 | Canberra Raiders | Parramatta Eels | GIO Stadium |
| 11 | 4 | 2024 | 6 | 19:50 | Newcastle Knights | Sydney Roosters | McDonald Jones Stadium |
| 12 | 4 | 2024 | 6 | 18:00 | Melbourne Storm | Canterbury-Bankstown Bulldogs | AAMI Park |
| 12 | 4 | 2024 | 6 | 20:00 | Brisbane Broncos | Dolphins | Suncorp Stadium |
| 13 | 4 | 2024 | 6 | 17:00 | Warriors | Manly-Warringah Sea-Eagles | Go Media Stadium |
| 13 | 4 | 2024 | 6 | 17:30 | Parramatta Eels | North Queensland Cowboys | CommBank Stadium |
| 13 | 4 | 2024 | 6 | 19:35 | South Sydney Rabbitohs | Cronulla-Sutherland Sharks | Accor Stadium |
| 14 | 4 | 2024 | 6 | 16:05 | Wests Tigers | St George-Illawarra Dragons | Campbelltown Sports Stadium |
| 14 | 4 | 2024 | 6 | 18:15 | Canberra Raiders | Gold Coast Titans | GIO Stadium |
| 18 | 4 | 2024 | 7 | 19:50 | Sydney Roosters | Melbourne Storm | Allianz Stadium |
| 19 | 4 | 2024 | 7 | 18:00 | St George-Illawarra Dragons | Warriors | WIN Stadium |
| 19 | 4 | 2024 | 7 | 19:30 | Parramatta Eels | Dolphins | TIO Stadium |
| 20 | 4 | 2024 | 7 | 15:00 | Penrith Panthers | Wests Tigers | Carrington Park |
| 20 | 4 | 2024 | 7 | 17:30 | Gold Coast Titans | Manly-Warringah Sea-Eagles | Cbus Super Stadium |
| 20 | 4 | 2024 | 7 | 19:35 | Brisbane Broncos | Canberra Raiders | Suncorp Stadium |
| 21 | 4 | 2024 | 7 | 14:00 | Canterbury-Bankstown Bulldogs | Newcastle Knights | Accor Stadium |
| 21 | 4 | 2024 | 7 | 16:05 | Cronulla-Sutherland Sharks | North Queensland Cowboys | Pointsbet Stadium |
| 25 | 4 | 2024 | 8 | 16:00 | Warriors | Gold Coast Titans | Go Media Stadium |
| 25 | 4 | 2024 | 8 | 16:00 | St George-Illawarra Dragons | Sydney Roosters | Allianz Stadium |
| 25 | 4 | 2024 | 8 | 19:50 | Melbourne Storm | South Sydney Rabbitohs | AAMI Park |
| 26 | 4 | 2024 | 8 | 20:00 | Manly-Warringah Sea-Eagles | Parramatta Eels | 4 Pines Stadium |
| 27 | 4 | 2024 | 8 | 17:30 | Wests Tigers | Brisbane Broncos | Campbelltown Sports Stadium |
| 27 | 4 | 2024 | 8 | 19:35 | North Queensland Cowboys | Penrith Panthers | QLD Country Bank Stadium |
| 28 | 4 | 2024 | 8 | 14:00 | Dolphins | Newcastle Knights | Suncorp Stadium |
| 28 | 4 | 2024 | 8 | 16:05 | Canberra Raiders | Cronulla-Sutherland Sharks | GIO Stadium |
| 2 | 5 | 2024 | 9 | 19:50 | South Sydney Rabbitohs | Penrith Panthers | Accor Stadium |
| 3 | 5 | 2024 | 9 | 18:00 | Manly-Warringah Sea-Eagles | Canberra Raiders | 4 Pines Stadium |
| 3 | 5 | 2024 | 9 | 20:00 | Brisbane Broncos | Sydney Roosters | Suncorp Stadium |
| 4 | 5 | 2024 | 9 | 15:00 | Canterbury-Bankstown Bulldogs | Wests Tigers | Accor Stadium |
| 4 | 5 | 2024 | 9 | 17:30 | Gold Coast Titans | Melbourne Storm | Cbus Super Stadium |
| 4 | 5 | 2024 | 9 | 19:35 | North Queensland Cowboys | Dolphins | QLD Country Bank Stadium |
| 5 | 5 | 2024 | 9 | 14:00 | Newcastle Knights | Warriors | McDonald Jones Stadium |
| 5 | 5 | 2024 | 9 | 16:05 | Cronulla-Sutherland Sharks | St George-Illawarra Dragons | Pointsbet Stadium |
| 9 | 5 | 2024 | 10 | 19:50 | Dolphins | Manly-Warringah Sea-Eagles | |
| 10 | 5 | 2024 | 10 | 18:00 | Penrith Panthers | Canterbury-Bankstown Bulldogs | BlueBet Stadiuim |
| 10 | 5 | 2024 | 10 | 20:00 | Parramatta Eels | Brisbane Broncos | CommBank Stadium |
| 11 | 5 | 2024 | 10 | 15:00 | Wests Tigers | Newcastle Knights | Scully Park |
| 11 | 5 | 2024 | 10 | 17:30 | St George-Illawarra Dragons | South Sydney Rabbitohs | Netstrata Jubilee Stadium |
| 11 | 5 | 2024 | 10 | 19:35 | Melbourne Storm | Cronulla-Sutherland Sharks | AAMI Park |
| 12 | 5 | 2024 | 10 | 14:00 | Sydney Roosters | Warriors | Allianz Stadium |
| 12 | 5 | 2024 | 10 | 16:05 | Gold Coast Titans | North Queensland Cowboys | Cbus Super Stadium |
| 17 | 5 | 2024 | 11 | 18:00 | Canberra Raiders | Canterbury-Bankstown Bulldogs | Suncorp Stadium |
| 17 | 5 | 2024 | 11 | 20:05 | Manly-Warringah Sea-Eagles | Brisbane Broncos | Suncorp Stadium |
| 18 | 5 | 2024 | 11 | 15:00 | Gold Coast Titans | Newcastle Knights | Suncorp Stadium |
| 18 | 5 | 2024 | 11 | 17:30 | Cronulla-Sutherland Sharks | Sydney Roosters | Suncorp Stadium |
| 18 | 5 | 2024 | 11 | 19:45 | South Sydney Rabbitohs | North Queensland Cowboys | Suncorp Stadium |
| 19 | 5 | 2024 | 11 | 13:50 | Warriors | Penrith Panthers | Suncorp Stadium |
| 19 | 5 | 2024 | 11 | 16:05 | Melbourne Storm | Parramatta Eels | Suncorp Stadium |
| 19 | 5 | 2024 | 11 | 18:25 | Wests Tigers | Dolphins | Suncorp Stadium |
| 23 | 5 | 2024 | 12 | 19:50 | Canterbury-Bankstown Bulldogs | St George-Illawarra Dragons | Accor Stadium |
| 24 | 5 | 2024 | 12 | 18:00 | North Queensland Cowboys | Wests Tigers | QLD Country Bank Stadium |
| 24 | 5 | 2024 | 12 | 20:00 | Manly-Warringah Sea-Eagles | Melbourne Storm | 4 Pines Stadium |
| 25 | 5 | 2024 | 12 | 15:00 | Canberra Raiders | Sydney Roosters | GIO Stadium |
| 25 | 5 | 2024 | 12 | 17:30 | Cronulla-Sutherland Sharks | Penrith Panthers | Pointsbet Stadium |
| 25 | 5 | 2024 | 12 | 19:35 | South Sydney Rabbitohs | Parramatta Eels | |
| 26 | 5 | 2024 | 12 | 14:00 | Brisbane Broncos | Gold Coast Titans | Suncorp Stadium |
| 26 | 5 | 2024 | 12 | 18:05 | Warriors | Dolphins | Go Media Stadium |
| 30 | 5 | 2024 | 13 | 19:50 | Parramatta Eels | Cronulla-Sutherland Sharks | CommBank Stadium |
| 31 | 5 | 2024 | 13 | 20:00 | Newcastle Knights | Canterbury-Bankstown Bulldogs | McDonald Jones Stadium |
| 1 | 6 | 2024 | 13 | 17:30 | Penrith Panthers | St George-Illawarra Dragons | BlueBet Stadiuim |
| 1 | 6 | 2024 | 13 | 19:35 | Dolphins | Canberra Raiders | |
| 2 | 6 | 2024 | 13 | 16:05 | Sydney Roosters | North Queensland Cowboys | Allianz Stadium |
| 7 | 6 | 2024 | 14 | 20:00 | St George-Illawarra Dragons | Wests Tigers | WIN Stadium |
| 8 | 6 | 2024 | 14 | 15:00 | Gold Coast Titans | South Sydney Rabbitohs | Cbus Super Stadium |
| 8 | 6 | 2024 | 14 | 17:30 | North Queensland Cowboys | Warriors | QLD Country Bank Stadium |
| 8 | 6 | 2024 | 14 | 19:35 | Brisbane Broncos | Cronulla-Sutherland Sharks | Suncorp Stadium |
| 9 | 6 | 2024 | 14 | 14:00 | Melbourne Storm | Newcastle Knights | AAMI Park |
| 9 | 6 | 2024 | 14 | 16:05 | Penrith Panthers | Manly-Warringah Sea-Eagles | BlueBet Stadiuim |
| 10 | 6 | 2024 | 14 | 16:00 | Canterbury-Bankstown Bulldogs | Parramatta Eels | Accor Stadium |
| 13 | 6 | 2024 | 15 | 19:50 | Cronulla-Sutherland Sharks | Dolphins | Pointsbet Stadium |
| 14 | 6 | 2024 | 15 | 18:00 | Canberra Raiders | North Queensland Cowboys | GIO Stadium |
| 14 | 6 | 2024 | 15 | 20:00 | South Sydney Rabbitohs | Brisbane Broncos | Accor Stadium |
| 15 | 6 | 2024 | 15 | 15:00 | Wests Tigers | Gold Coast Titans | Leichhardt Oval |
| 15 | 6 | 2024 | 15 | 19:30 | Warriors | Melbourne Storm | Go Media Stadium |
| 15 | 6 | 2024 | 15 | 19:35 | Parramatta Eels | Sydney Roosters | CommBank Stadium |
| 16 | 6 | 2024 | 15 | 14:00 | Manly-Warringah Sea-Eagles | St George-Illawarra Dragons | 4 Pines Stadium |
| 16 | 6 | 2024 | 15 | 16:05 | Newcastle Knights | Penrith Panthers | McDonald Jones Stadium |
| 21 | 6 | 2024 | 16 | 20:00 | Dolphins | Melbourne Storm | Suncorp Stadium |
| 22 | 6 | 2024 | 16 | 15:00 | Gold Coast Titans | Warriors | Cbus Super Stadium |
| 22 | 6 | 2024 | 16 | 17:30 | Sydney Roosters | Canterbury-Bankstown Bulldogs | Industree Group Stadium |
| 22 | 6 | 2024 | 16 | 19:35 | South Sydney Rabbitohs | Manly-Warringah Sea-Eagles | Accor Stadium |
| 23 | 6 | 2024 | 16 | 16:05 | Wests Tigers | Canberra Raiders | Campbelltown Sports Stadium |
| 28 | 6 | 2024 | 17 | 20:00 | Canterbury-Bankstown Bulldogs | Cronulla-Sutherland Sharks | Accor Stadium |
| 29 | 6 | 2024 | 17 | 17:00 | Warriors | Brisbane Broncos | Go Media Stadium |
| 29 | 6 | 2024 | 17 | 17:30 | Newcastle Knights | Parramatta Eels | McDonald Jones Stadium |
| 29 | 6 | 2024 | 17 | 19:35 | Melbourne Storm | Canberra Raiders | AAMI Park |
| 30 | 6 | 2024 | 17 | 14:00 | St George-Illawarra Dragons | Dolphins | Netstrata Jubilee Stadium |
| 30 | 6 | 2024 | 17 | 16:05 | Penrith Panthers | North Queensland Cowboys | BlueBet Stadiuim |
| 30 | 6 | 2024 | 17 | 18:15 | Sydney Roosters | Wests Tigers | Allianz Stadium |
| 4 | 7 | 2024 | 18 | 19:50 | Parramatta Eels | South Sydney Rabbitohs | CommBank Stadium |
| 5 | 7 | 2024 | 18 | 18:00 | Cronulla-Sutherland Sharks | Gold Coast Titans | C.Ex Coffs International Stadium |
| 5 | 7 | 2024 | 18 | 20:00 | Brisbane Broncos | Penrith Panthers | Suncorp Stadium |
| 6 | 7 | 2024 | 18 | 15:00 | Canterbury-Bankstown Bulldogs | Warriors | Accor Stadium |
| 6 | 7 | 2024 | 18 | 17:30 | Wests Tigers | Melbourne Storm | Leichhardt Oval |
| 6 | 7 | 2024 | 18 | 19:35 | North Queensland Cowboys | Manly-Warringah Sea-Eagles | QLD Country Bank Stadium |
| 7 | 7 | 2024 | 18 | 14:00 | Sydney Roosters | St George-Illawarra Dragons | Allianz Stadium |
| 7 | 7 | 2024 | 18 | 16:05 | Canberra Raiders | Newcastle Knights | GIO Stadium |
| 11 | 7 | 2024 | 19 | 19:50 | Dolphins | South Sydney Rabbitohs | Kayo Stadium |
| 12 | 7 | 2024 | 19 | 20:00 | Cronulla-Sutherland Sharks | Wests Tigers | Pointsbet Stadium |
| 13 | 7 | 2024 | 19 | 17:30 | Gold Coast Titans | Parramatta Eels | Cbus Super Stadium |
| 13 | 7 | 2024 | 19 | 19:35 | Brisbane Broncos | St George-Illawarra Dragons | Suncorp Stadium |
| 14 | 7 | 2024 | 19 | 16:05 | Manly-Warringah Sea-Eagles | Newcastle Knights | 4 Pines Stadium |
| 19 | 7 | 2024 | 20 | 20:00 | Canberra Raiders | Warriors | GIO Stadium |
| 20 | 7 | 2024 | 20 | 15:00 | South Sydney Rabbitohs | Wests Tigers | Industree Group Stadium |
| 20 | 7 | 2024 | 20 | 17:30 | Newcastle Knights | Brisbane Broncos | McDonald Jones Stadium |
| 20 | 7 | 2024 | 20 | 19:35 | Melbourne Storm | Sydney Roosters | AAMI Park |
| 21 | 7 | 2024 | 20 | 14:00 | Penrith Panthers | Dolphins | BlueBet Stadiuim |
| 21 | 7 | 2024 | 20 | 16:05 | Manly-Warringah Sea-Eagles | Gold Coast Titans | 4 Pines Stadium |
| 21 | 7 | 2024 | 20 | 18:15 | North Queensland Cowboys | Canterbury-Bankstown Bulldogs | QLD Country Bank Stadium |
| 26 | 7 | 2024 | 21 | 20:00 | Warriors | Wests Tigers | Go Media Stadium |
| 26 | 7 | 2024 | 21 | 20:00 | Parramatta Eels | Melbourne Storm | CommBank Stadium |
| 27 | 7 | 2024 | 21 | 15:00 | Brisbane Broncos | Canterbury-Bankstown Bulldogs | Suncorp Stadium |
| 27 | 7 | 2024 | 21 | 17:30 | North Queensland Cowboys | Cronulla-Sutherland Sharks | QLD Country Bank Stadium |
| 27 | 7 | 2024 | 21 | 19:35 | Sydney Roosters | Manly-Warringah Sea-Eagles | Allianz Stadium |
| 28 | 7 | 2024 | 21 | 14:00 | St George-Illawarra Dragons | Penrith Panthers | WIN Stadium |
| 28 | 7 | 2024 | 21 | 16:05 | Dolphins | Gold Coast Titans | Suncorp Stadium |
| 28 | 7 | 2024 | 21 | 18:15 | Canberra Raiders | South Sydney Rabbitohs | GIO Stadium |
| 1 | 8 | 2024 | 22 | 19:50 | Wests Tigers | North Queensland Cowboys | Leichhardt Oval |
| 2 | 8 | 2024 | 22 | 20:00 | Warriors | Parramatta Eels | Go Media Stadium |
| 2 | 8 | 2024 | 22 | 18:00 | Dolphins | Sydney Roosters | HBF Park |
| 3 | 8 | 2024 | 22 | 15:00 | Gold Coast Titans | Brisbane Broncos | Cbus Super Stadium |
| 3 | 8 | 2024 | 22 | 17:30 | Melbourne Storm | St George-Illawarra Dragons | AAMI Park |
| 3 | 8 | 2024 | 22 | 19:35 | Cronulla-Sutherland Sharks | South Sydney Rabbitohs | Pointsbet Stadium |
| 4 | 8 | 2024 | 22 | 14:00 | Penrith Panthers | Newcastle Knights | BlueBet Stadiuim |
| 4 | 8 | 2024 | 22 | 16:05 | Canterbury-Bankstown Bulldogs | Canberra Raiders | Belmore Sportsground |
| 8 | 8 | 2024 | 23 | 19:50 | South Sydney Rabbitohs | Melbourne Storm | Accor Stadium |
| 9 | 8 | 2024 | 23 | 18:00 | Gold Coast Titans | Cronulla-Sutherland Sharks | Cbus Super Stadium |
| 9 | 8 | 2024 | 23 | 20:00 | Parramatta Eels | Penrith Panthers | CommBank Stadium |
| 10 | 8 | 2024 | 23 | 15:00 | Canberra Raiders | Manly-Warringah Sea-Eagles | GIO Stadium |
| 10 | 8 | 2024 | 23 | 17:30 | North Queensland Cowboys | Brisbane Broncos | QLD Country Bank Stadium |
| 10 | 8 | 2024 | 23 | 19:35 | St George-Illawarra Dragons | Canterbury-Bankstown Bulldogs | Netstrata Jubilee Stadium |
| 11 | 8 | 2024 | 23 | 14:00 | Dolphins | Warriors | Suncorp Stadium |
| 11 | 8 | 2024 | 23 | 16:05 | Newcastle Knights | Wests Tigers | McDonald Jones Stadium |
| 15 | 8 | 2024 | 24 | 19:50 | Penrith Panthers | Melbourne Storm | BlueBet Stadiuim |
| 16 | 8 | 2024 | 24 | 18:00 | Manly-Warringah Sea-Eagles | Warriors | 4 Pines Stadium |
| 16 | 8 | 2024 | 24 | 20:00 | Sydney Roosters | Parramatta Eels | Allianz Stadium |
| 17 | 8 | 2024 | 24 | 15:00 | Canterbury-Bankstown Bulldogs | Dolphins | Salter Oval |
| 17 | 8 | 2024 | 24 | 17:30 | North Queensland Cowboys | Canberra Raiders | QLD Country Bank Stadium |
| 17 | 8 | 2024 | 24 | 19:35 | Wests Tigers | South Sydney Rabbitohs | Campbelltown Sports Stadium |
| 18 | 8 | 2024 | 24 | 14:00 | St George-Illawarra Dragons | Gold Coast Titans | WIN Stadium |
| 18 | 8 | 2024 | 24 | 16:05 | Cronulla-Sutherland Sharks | Newcastle Knights | Pointsbet Stadium |
| 22 | 8 | 2024 | 25 | 19:50 | Wests Tigers | Manly-Warringah Sea-Eagles | Leichhardt Oval |
| 23 | 8 | 2024 | 25 | 20:00 | Warriors | Canterbury-Bankstown Bulldogs | Go Media Stadium |
| 23 | 8 | 2024 | 25 | 20:00 | Brisbane Broncos | Parramatta Eels | Suncorp Stadium |
| 24 | 8 | 2024 | 25 | 15:00 | Canberra Raiders | Penrith Panthers | GIO Stadium |
| 24 | 8 | 2024 | 25 | 17:30 | Melbourne Storm | Dolphins | AAMI Park |
| 24 | 8 | 2024 | 25 | 19:35 | South Sydney Rabbitohs | Newcastle Knights | Accor Stadium |
| 25 | 8 | 2024 | 25 | 14:00 | Gold Coast Titans | Sydney Roosters | Cbus Super Stadium |
| 25 | 8 | 2024 | 25 | 16:05 | St George-Illawarra Dragons | Cronulla-Sutherland Sharks | WIN Stadium |
| 29 | 8 | 2024 | 26 | 19:50 | North Queensland Cowboys | Melbourne Storm | QLD Country Bank Stadium |
| 30 | 8 | 2024 | 26 | 18:00 | Canterbury-Bankstown Bulldogs | Manly-Warringah Sea-Eagles | Accor Stadium |
| 30 | 8 | 2024 | 26 | 20:00 | Penrith Panthers | South Sydney Rabbitohs | BlueBet Stadiuim |
| 31 | 8 | 2024 | 26 | 15:00 | Parramatta Eels | St George-Illawarra Dragons | CommBank Stadium |
| 31 | 8 | 2024 | 26 | 17:30 | Dolphins | Brisbane Broncos | Suncorp Stadium |
| 31 | 8 | 2024 | 26 | 19:35 | Cronulla-Sutherland Sharks | Warriors | Pointsbet Stadium |
| 1 | 9 | 2024 | 26 | 14:00 | Newcastle Knights | Gold Coast Titans | McDonald Jones Stadium |
| 1 | 9 | 2024 | 26 | 16:05 | Sydney Roosters | Canberra Raiders | Allianz Stadium |
| 5 | 9 | 2024 | 27 | 19:50 | Brisbane Broncos | Melbourne Storm | Suncorp Stadium |
| 6 | 9 | 2024 | 27 | 18:00 | Wests Tigers | Parramatta Eels | Campbelltown Sports Stadium |
| 6 | 9 | 2024 | 27 | 20:00 | South Sydney Rabbitohs | Sydney Roosters | Accor Stadium |
| 7 | 9 | 2024 | 27 | 15:00 | St George-Illawarra Dragons | Canberra Raiders | Netstrata Jubilee Stadium |
| 7 | 9 | 2024 | 27 | 17:30 | Canterbury-Bankstown Bulldogs | North Queensland Cowboys | Accor Stadium |
| 7 | 9 | 2024 | 27 | 19:35 | Penrith Panthers | Gold Coast Titans | BlueBet Stadiuim |
| 8 | 9 | 2024 | 27 | 14:00 | Manly-Warringah Sea-Eagles | Cronulla-Sutherland Sharks | 4 Pines Stadium |
| 8 | 9 | 2024 | 27 | 16:05 | Newcastle Knights | Dolphins | McDonald Jones Stadium |
Get subscribed now to keep up to date with the 2024 NRL Draw:
iTunes: https://itunes.apple.com/podcast/fergo-and-the-freak/id1457964385
Spotify: https://open.spotify.com/show/1C6UQPMOKl9QAiiXk78LtV
Stitcher: https://www.stitcher.com/podcast/fergo-and-the-freak