It is one of the most worn out phrases in the game. You don't read about the good things that players and club do, you only hear about the bad things. Today is not one of those days.
Let me share with you my story and maybe you'll understand why Canterbury are not only my club, but my family.
In August 2008, at just the age of 25, my beautiful sister Josie was diagnosed with Bowel Cancer. Unfortunately the challenge only grew a few weeks later when we were told it had spread through her blood stream and into her lungs. I was only 18 when Jos got diagnosed and was so naïve the entire time, adamant it would all be okay and she would be around forever.
Six years later on the 17th May 2014, I lost the best part of me. After multiple operations, an endless amount of chemotherapy sessions and many other procedures, our angel passed away. That beautiful smile was gone forever. That caring nature never to be felt again. That love and selflessness disappearing from our lives. My sister and best friend, gone forever.
I remember thinking I' m not going to make it without her. I still do some days. But one of my greatest comforts is remembering how much my great club has done for my family and myself. I now know for certain that they are there through the most difficult times. Just like family.
The day after Jos was admitted into hospital, a family friend got in contact with the club hoping she could arrange something to bring some joy to our family. Within two hours we were shocked to find Josh Reynolds and Krisnan Inu's smiling faces walking into Concord Hospital. Might I add it was Thursday and they were due to fly to New Zealand for a Sunday game.
Now I know what a footballers face looks like when they are just there to do their deed. To try make the club look good. What we experienced from Josh and Krisnan was nothing short of heart-warming and selfless. They spent at least an hour sitting with us, cracking jokes, making us laugh and listening to all our 'crazy supporter' stories. At this point Jos was sedated so in and out of sleep. They refused to leave until she woke up. They wanted to see her. Talk to her. Make her smile and comfort her in what she knew were her final days.
After about an hour Jos woke up. I will never forget her smile when she saw them. They both moved right near her talking to her although her responses were limited. They didn't want to leave and apologised a number of times when they had to head back to Belmore to train. They encouraged us to take a photo of them with her. And we did. The last photo we ever took of our girl. She is probably looking down on me cursing me for sharing this photo with you all. I think she looks pretty damn incredible though!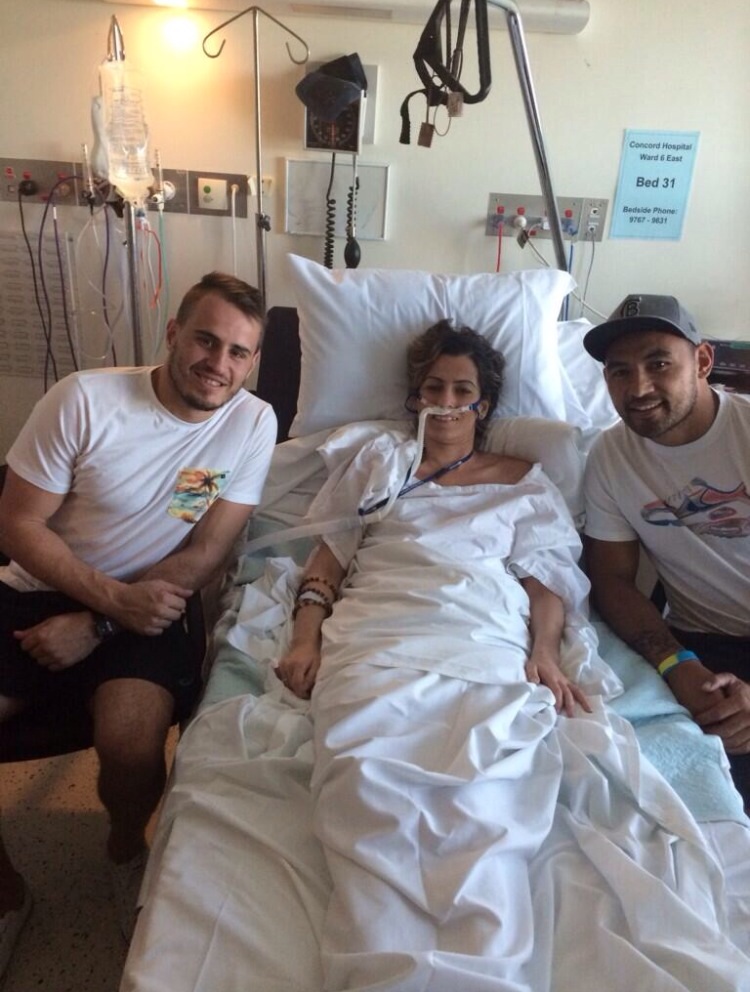 The beautiful gestures just continued when she passed away. The day before her funeral we had a beautiful bunch of flowers delivered to our home. The card read ' Dear Marie Finianos and Family. Our thoughts are with you all at this very difficult time. Sympathies from everyone at the Canterbury Bankstown Bulldogs.' I ran outside to show dad. It was probably the first time he had smiled since Jos had passed.
A couple of days later we received a separate card from Krisnan Inu sending his condolences. As if that wasn't enough, we were told by Krisnan that he wanted to put Josie's name on his kicking tee for our game against the Roosters on the 23rd May 2014. We gathered all of our extended family and friends around to watch the game. And he didn't lie. There it was. A bright green kicking tee with our angel's name on it. I will never forget the mix of smiles and tears at that moment. One thing's for sure, we were all so appreciative. And as if that too wasn't enough, Krisnan refused to give the tee to someone to give to us. He wanted to deliver it personally to our house to pay his condolences.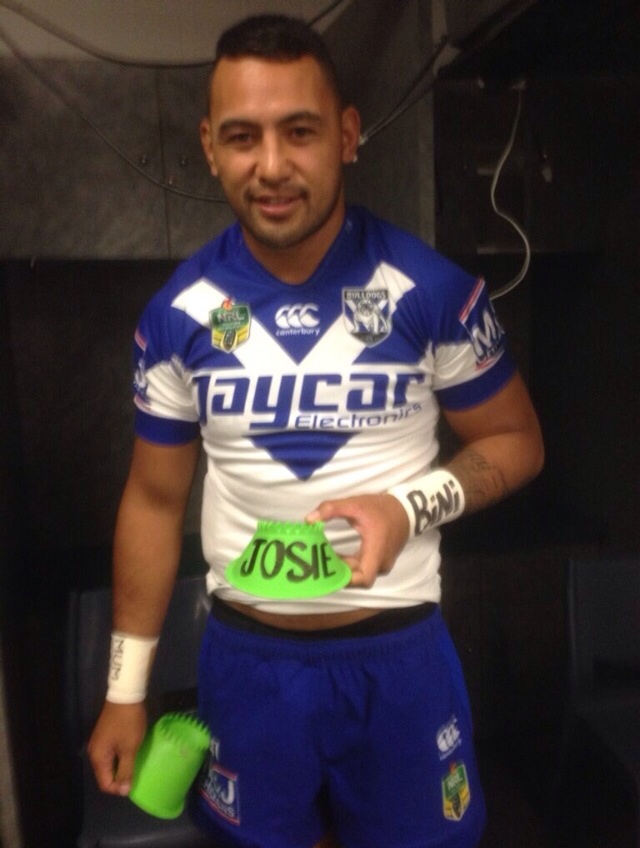 About 3 months later came my birthday. The first birthday without my sister. I remember sitting at my work desk wondering how I was going to get through the day. My phone started buzzing. It was a private number so I didn't answer. Then a text message comes up. You can imagine I almost fell off my chair when I read the first line 'Hi Marie, it's Josh Reynolds from the bulldogs.' The happy birthday message that followed is one I will never forget. Full of so much thought and understanding. At that moment I just smiled and knew my girl was looking out for me. Just what I needed to get me through the difficult day.
Of course I cannot go past the beautiful actions of my Bulldogs army friends and fellow supporters. The messages of love and support received from them, by my family and myself, has been overwhelmingly comforting. Looking up at Jos' funeral I remember seeing so many of them there. I was also humbled when told that they had arranged to fundraise at Canterbury's home game versus Penrith in August 2014. All in Josie's name for Concord Cancer Centre. They raised almost $1500.
The first week of the finals, Dad and I were treated to a tour of Belmore Training Complex with Terry Lamb and Barry Ward. They sat and listened to us babble on about Jos as if they knew her. They even took us in to meet Raelene Castle and some of the staff who were incredibly kind and compassionate to our situation. We even got to meet the man himself, Dessie Hasler, and he cracked us a smile and shared a joke with us! I remember walking out of there with Dad feeling so blessed and thinking 'Jos would have loved this.'
I must say it was the final gesture that absolutely humbled myself and my family. On the eve of the preliminary final v Penrith, my phone started buzzing endlessly. I checked it to find everyone telling me to look at Josh Reynolds' Instagram. What I saw brought an endless amount of tears to my eyes. Not sad tears. Tears of appreciation. A photo of Josh Reynold's holding a number 6 Canterbury Jersey with the words 'R.I.P Josie' signed by everyone in our 2014 squad followed by a beautiful heartfelt message. No words can describe how much happiness this brought our family.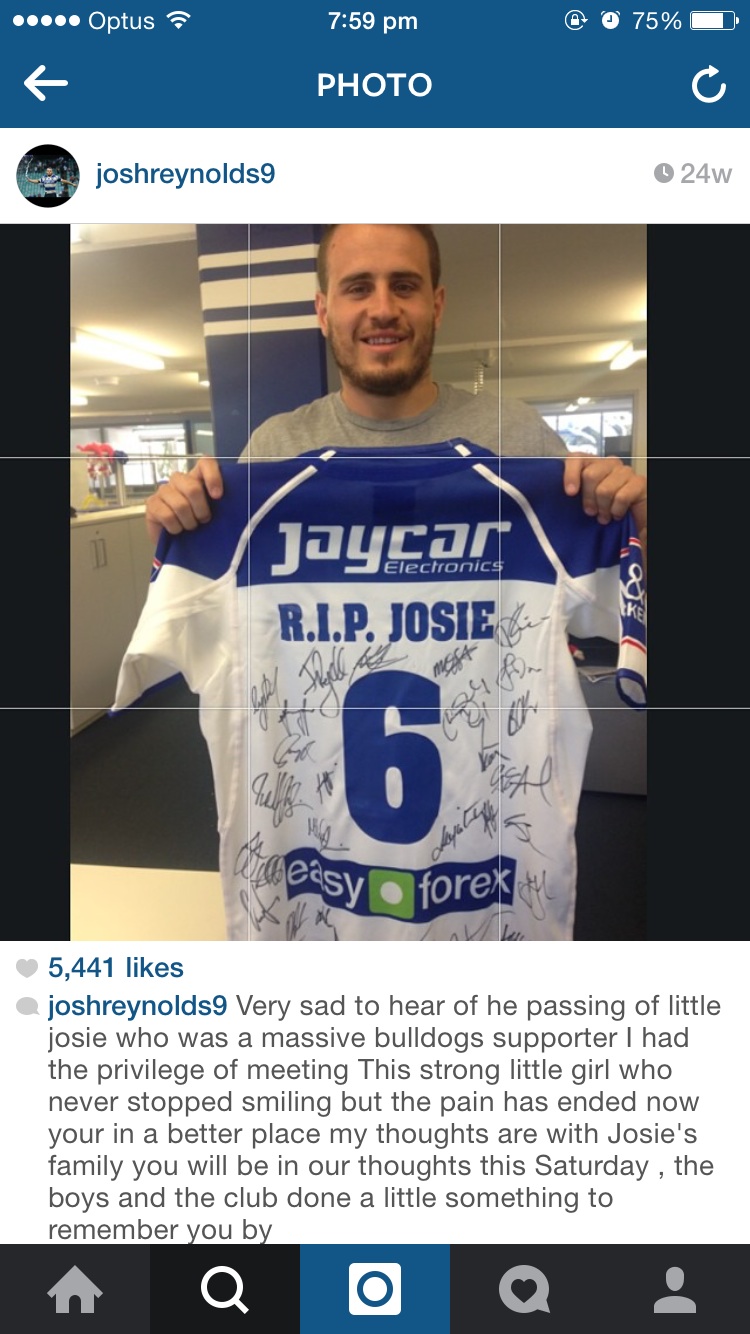 Still to this day, almost a year after Jos' passing, I am told that Josh is always checking in our family. Not out of obligation, out of his own selfless heart.
I'm not telling you this story so that you can cut Canterbury some slack or so you can love Josh Reynold's. Everyone is entitled to their own opinions.
The Canterbury Bulldogs are an incredible club. Whilst Josh Reynold's may be a 'grub' to many of you, he will forever be a selfless and caring individual to me.
I'm thinking Jos should now have enough influence in heaven to make sure Canterbury win the premiership this year. Yep that's definitely what I am going to keep telling myself this season.